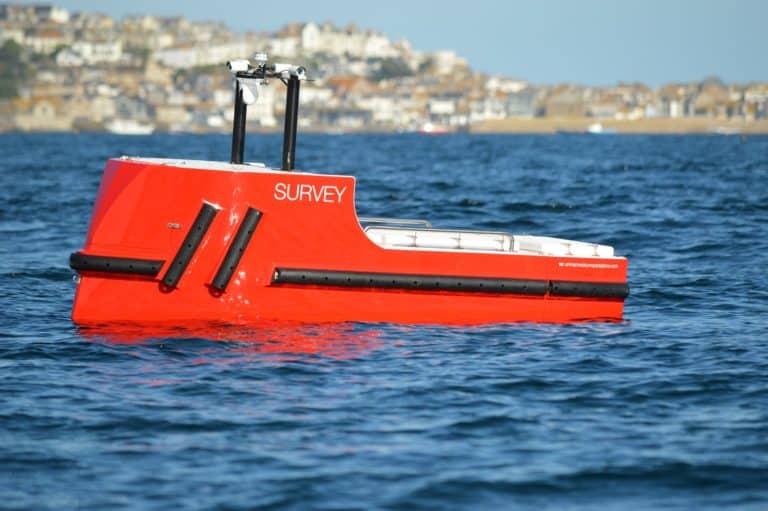 SBG Systems' Navsight Apogee Marine GNSS-aided INS (inertial navigation system) has been selected for incorporation into an unmanned surface vessel (USV) developed by Unmanned Survey Solutions (USS). The Accession Class USV has been designed to meet a wide range of surveying needs, featuring a modular design with three variable boat lengths depending on the desired application. The base boat length of 3.50m can be extended to 4.25m or 5.00m by adding additional hull sections.
The standard vessel configuration can be interfaced with a mobile LiDAR, such as the Carlson Merlin laser scanner, allowing the vessel to map terrestrial structures and create a full 3D point cloud above and below water. SBG's Navsight Apogee Marine allows this to be done with centimetre-level RTK position accuracy, which can be improved even further with the Qinertia post-processing software.
Navsight Apogee Marine provides roll and pitch accuracy down to 0.008° and heading accuracy down to 0.015°. It can be used in both shallow and deeper water regions, in either open sky or challenging GNSS environments such as under bridges and tree canopies. The Qinertia software is PPP and PPK-capable and provides single or virtual base station modes with the ability to incorporate users' own base station RINEX data.
The Accession USV is payload-agnostic and fully customer-configurable, and is equipped as standard with a R2Sonic SONIC 2024 multibeam sonar and a Valeport MiniSVS & SWIFT SVP for measuring sound velocity, in addition to the SBS SYstems GNSS-aided INS. Data is acquired through either Hypack or QINSy Hydrographic software, and utilized for mission planning, data acquisition, post-processing, and final product creation.
James Williams, Director of USS, commented: "Navsight Apogee provides exceptional performance when used in our nearshore and offshore surveys. Combined with its low power, small installation footprint and short initialisation times, it's the perfect solution for all USV operations."