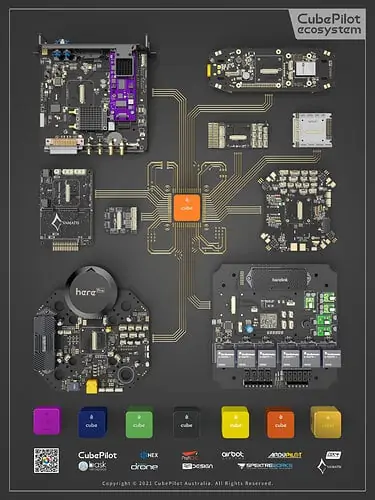 CubePilot Pty Ltd (Australia) has introduced OEM Carrier board capabilities of the CubePilot Ecosystem, in partnership with HexAero PTE. LTD. (Singapore) and ProfiCNC Pty Ltd (Australia).
The Cube, designed by ProfiCNC, is future looking, professional, and upgradeable. By using the Patented Autopilot on module concept, products can stay up to date as the industry develops. ProfiCNC was the pioneer of the Autopilot as a module concept, and in 2014, as hardware lead on the Pixhawk, PX4, and Ardupilot projects, ProfiCNC has led this industry in providing the most reliable, proven flight control systems in the market. Partnered with HexAero, The CubePilot Ecosystem was born.
The CubePilot Ecosystem comprises of HexAero products, the Cube range of Autopilot, the Positioning systems, Here3 and HerePro, Remote ID, Smart batteries, and HereLink long range Command and Control units, as well as supporting partner companies that make products or accessories to suite the Cube Autopilot.
Thanks to some awesome CubePilot Ecosystem members: HexAero, ProfiCNC, Airbot Systems, Bask Aerospace, Taiwan Drone 100, RFDesign, Spektreworks, and Vamatis, it is possible to demonstrate how a carrier board can improve systems design, while ensuring that manufacturers can stay up to date with the latest developments in the Cube Autopilot. With full compatibility and an extremely close working relationship with Ardupilot, CubePilot can assist in making vehicle the best they can be.
Further details on each of these boards, the companies that designed them, and the products they are used in are available along with other OEM boards at: OEM Carrier Board.
The Cube Interface guarantee… CubePilot have locked the design interface from the first unit in 2014 and will continue to design future cubes with this interface, though additional connectors for future functionality may be added in the future, the next Cube autopilots will still interface with all the previous carrier boards and use the same pin configuration on the DF17 80 pin connector. This means that the carrier board designed today will still be relevant in 5-10 years.
Options for custom carrier board designs:
Design it yourself using the reference design that we provide for free
Hire Spektreworks, Wurzbach Electonics, Airbot, or RFDesign to do it for you.
Design it yourself, and Hire CubePilot to assist you in the full development of your product, we can give you tips along the way, allowing your team to build the skills required to excel in this industry.