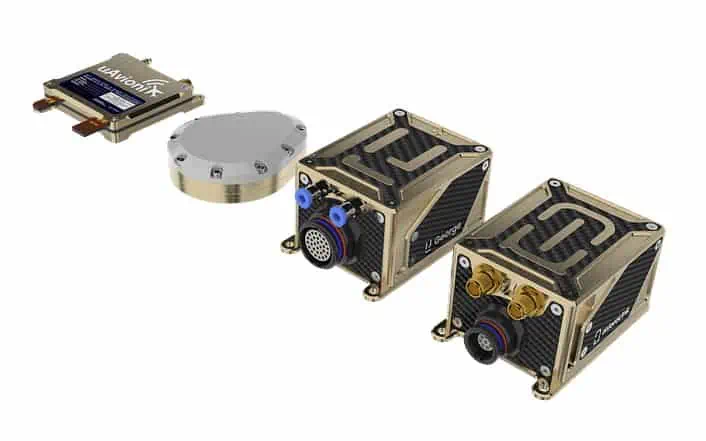 uAvionix has entered into an agreement that will allow CubePilot's extensive reseller network to provide the full George Autopilot Ecosystem and George integration kits directly to end-users.
The uAvionix George Autopilot Ecosystem is based upon the Cube autopilot for autonomous drones and unmanned systems, which has already been installed in a variety of vehicles around the world. George combines the flexibility of open-source architecture with the robustness of certifiable DAL-C hardware. The George integration kits include the George autopilot, uAvionix GPS, microLink CNPC radios, antennas, connectors, and power adapters, providing customers with safe and easily integrated command and control system for demanding drone operations.
uAvionix and CubePilot have had a long-standing relationship, starting with uAvionix' customized 1090MHz ADS-B receivers being integrated into the ADS-B carrier board from CubePilot. With CubePilot Orange or Blue at the core of George, all uAvionix components work seamlessly together for smaller operators as well as commercial and government customers seeking certification.
The CubePilot reseller network will also have access to other uAvionix non-certified and certified UAS products, such as the TSO-certified truFYX WAAS GPS for aviation-grade GPS integrity, the TSO certified ping200X transponder, pingRX Pro airborne receiver, and the dual-band pingStation3 ground receiver to aid Detect & Avoid. The use of certified avionics paired with the George autopilot will help customers simplify their type certification processes and safety case, as avionics that already have a TSO certification typically require no further performance review from a regulator in a type certification process.
Christian Ramsey, President of uAvionix, commented: "We have enjoyed a very productive relationship with CubePilot over the past several years and have used the CubePilot based George system extensively in our own fleet of UAS on our test flight campaign with VANTIS. Bringing the ease of a fully integrated uAvionix UAS ecosystem to CubePilot resellers will enhance the offering to their customers when reliability, accuracy and integrity are key."
Philip Rowse, owner of CubePilot, stated: "We have over 90 resellers around the world, and many are expanding their operations. George and the uAvionix ecosystem are a logical next step for many looking to add a fully integrated, lightweight, and extremely capable system to their operation. The complete airborne package is under 175-grams, and easy to use. We are looking forward to seeing what our resellers can do with this system."