Gremsy, a developer of stabilized camera gimbals for drones and unmanned aerial vehicles (UAVs), has announced the launch of the Gremsy T7, a next-generation heavy-lift gimbal designed to work with large specialized cameras.
The Gremsy T7's large camera cage can handle payloads of up to 7 lbs, including large cameras such as the Phase One iMX and the Wiris GIS 320.
An optional extra camera slide provides the ability to mount multiple cameras at once for flexible mission capabilities. The HDMI Hyper Quick Release functionality is common across the T7 as well as the T3 version 3 and forthcoming S1 version 3 gimbals, allowing users to quickly hotswap without dismantling the system.
Gremsy is currently developing an open Software Development Kit (SDK) that will allow users to develop flexible solutions for industrial applications.
Koen Vrints, head of R&D at professional heavy-lift drone manufacturer Acecore Technologies, commented: "Game-changing features such as internal wiring and an HDMI out on the quick release make the Gremsy T7 the perfect sequel to the original H7 which we used and loved."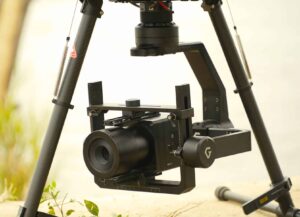 Gremsy T7 Highlights:
HDMI Hyper Quick Release
Carrying capacity up to 7lbs
Multiple-camera mounting with ease
Aux port with 9 signals
Robust design and powerful motor
Open SDK for development.