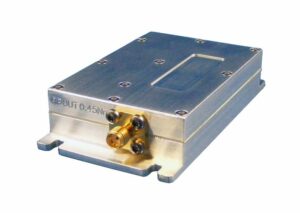 Domo Tactical Communications (DTC), a developer of wireless communications solutions for UAVs (unmanned aerial vehicles) and robotics, has announced the launch of a 5 Watt variant of the company's RF Power Amplifier. The new amplifier is intended for digital transmission applications requiring long range and high reliability, such as surveillance, airborne data and telemetry, and military UAV and UGV (unmanned ground vehicle) communications.
The small form factor, lightweight linear amplifier has been designed as an OEM module and is suitable for pairing with DTC's miniature SOLO8 SDR-C software-defined radio transceiver. This combination makes an excellent long-range, high data rate OEM 5W radio module for tactical drones, which can be further enhanced for swarm applications with DTC's MeshUltra Waveform technology.
The 5W RF Power Amplifier can be integrated as part of high-performance surveillance, communications and broadcast systems that enable users to securely monitor, communicate and share information in demanding environments at extreme range. It offers a broad range of operating frequencies from 1200MHz to 5GHz (available in banded options), and incorporates a low loss transmit/receive switch and low noise amplifier providing an RF return path for transceiver platforms. The amplifier meets the stringent requirements of successful DVB-T transmission and can be used for COFDM, 64QAM, 16QAM, QPSK, CW and similar applications.