In this article Deep Trekker explains how its Remotely Operated Vehicles (ROVs) can safely assist in reducing marine debris to improve the safe navigation of fishing grounds and help restore the health of open water ecosystems. 
---
WHAT IS GHOST FISHING?
Ghost fishing or ghost gear is referred to fishing gear that has been lost, dumped or abandoned in our vast bodies of water (Ghostfishing.org). Man-made contraptions designed to catch fish and marine animals, such as nets, long lines, and fish traps are considered capable of ghost fishing when not supervised. Ghost fishing is also contributing to depleting commercial fish stocks, due to the lack of profit made from fish catches. Fish that are caught often die and in turn attract scavengers which can get caught in that same net, creating a vicious cycle.
HOW MUCH FISHING GEAR IS LOST?
An estimated 25,000 nets are discarded annually in the Northeast Atlantic alone, according to World Animal Protection, with the masses increasing each year. These nets can weigh up to 10,000 pounds, resulting in diving teams having to take multiple trips underwater – a single dive trip can only retrieve 200 to 300 pounds of nets of this 10,000 out of the ocean. The search is timely, and often dangerous and strenuous for divers.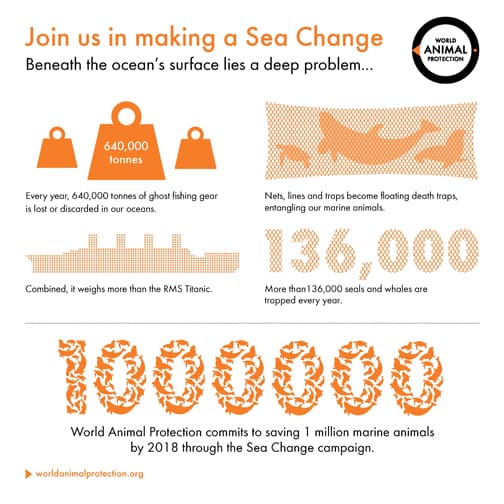 CAUSES OF GHOST FISHING
Ghost fishing gear is the result of many circumstances. Some equipment may be lost due to storms, currents and other perils of nature. The ravages of time and poor maintenance may see more nets and fishing gear disappear when anchors, floats or moorings corrode. Unfortunately, a significant percentage of ghost fishing gear is the result of being thrown overboard by crews because it was the easiest and most expedient way to dispose of it.
The Food and Agricultural Organization of the United Nations (FAO) has identified several consequences of ghost fishing and in 2019, organized regional workshops on best practices to prevent and reduce abandoned, lost or discarded fishgear to address the problem. It is believed that there are likely thousands of kilometers of abandoned and damaged nets drifting through seas or trapped by obstacles on sea beds. The obvious result is that these ghost nets continue to trap fish.
Ghost fishing cannot help but affect fish stock from a numerical point of view. Fish caught in ghost gear cannot be harvested by fishers and thus create depleted catches. Fish and marine animals trapped in these nets inevitably die. Their remains will become sources and hosts for waterborne diseases that in turn affect the health of other species in the area.
Abandoned and lost gear also creates navigation hazards. Submerged and drifting nets and gear can cause hull damage, foul propellers and get caught in other aspects of propulsion systems.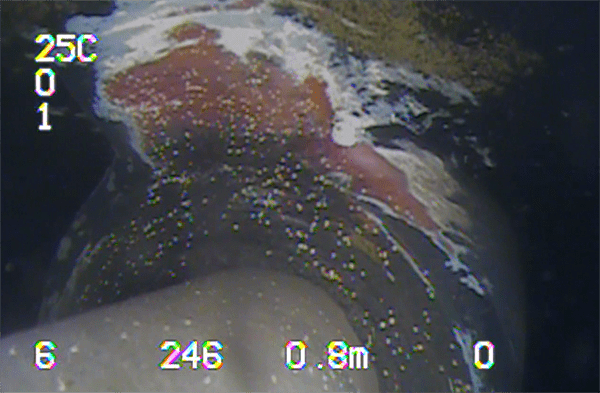 GHOST FISHING INITIATIVES
There are many Ghost Fishing initiatives and organizations all over the world, aimed at removing derelict fishing gear that continues to harm, trap and kill aquatic life.
Global Ghost Gear Initiative was set up as an alliance of non-governmental organizations, academics and fishing industry leaders to reduce the amount of ghost gear in the oceans.
Ghost Diving Global Mission is a registered charity organization of volunteer technical divers specialized in the removal of ghost fishing gear and other marine debris.

UNDERWATER DRONES OR ROVS FOR GHOST GEAR RETRIEVAL
Clearly, ghost fishing has severe economic and environmental consequences. However, in a 2018 report, the FAO was able to identify six preventative methods to avoid, minimize or eliminate fishing gear being abandoned, lost or discarded in our oceans and seas. Deep Trekker can easily be part of your industry's efforts to reduce the ravages of ghost fishing and to increase profitability in aquaculture.
Deep Trekker's Remote Operated Vehicles (ROVs), paired with the FAO's preventative strategies can safely assist in reducing marine debris, improving the safe navigation of fishing grounds and helping to restore the health of fragile open water ecosystems.
Among the obvious recommendations issued by the FAO are the detection and removal of ALDFGs and periodic or constant observation of passive gear (gear that is left in place for a period of time prior to retrieving). A Deep Trekker ROV is a sensible, affordable and dependable choice to meet these objectives.
The DTG3 ROV and REVOLUTION ROV are easy to use, portable and built to last in harsh open water environments. Deep Trekker has integrated a patented pitching system into it for maximum maneuverability. With the optional grabber claw, ALDFG can even be recovered with the Deep Trekker ROV.
Piloting a unit and surveying images is easy using the handheld controller with a built-in video display. The 330-degree field of view provided by the internal HD camera can be viewed in real time or fed to another monitor or DVR.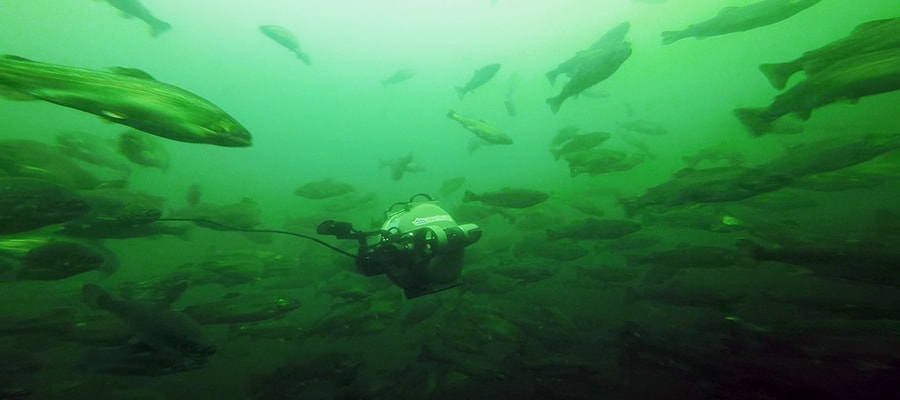 Discover and document ghost fishing gear without worrying about power considerations. Deep Trekker ROV's have onboard batteries that run 6-8 hours on a 1.5-hour charge. The unit's extreme portability means you can also survey in difficult or awkward locations up to depths of 100 m to 150 m. When you are all finished, all components of the DTG3 ROV are stored in a single, manageable case.
There is no question that ghost fishing is a significant issue for many maritime industries. The FAO has identified strategies to reduce its proliferation and associated risks. Deep Trekker can assist you in reducing the risks of your gear becoming part of the ghost fishing phenomenon.