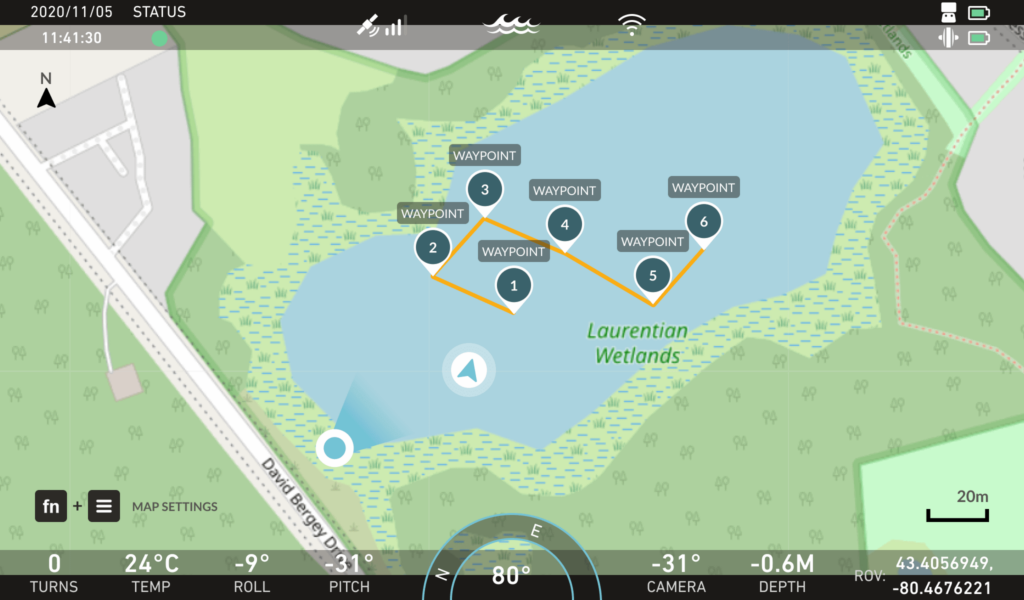 Deep Trekker has added new mission planning features to the handheld controller software for the company's underwater ROVs (remotely operated vehicles). Owners of Deep Trekker Revolution and Pivot ROVs can now update their software with the ability to plot and save waypoints.
In addition to being a crucial step towards autonomy, mission planning makes vehicle navigation convenient and straightforward for ROV pilots. The new mission planning software features provide users with a useful tool to enhance their navigation and operation. In addition to plotting waypoints on the handheld controller map, users can also see the path between points.
Pilots can visualize the size of their inspection site with the entire mission mapped out on their screen, and can ensure thorough inspections with an accurate planning tool. They can also clearly understand the position of their ROV within the inspection site by utilizing the on-screen waypoint map. Clear and precise graphics illustrate the ROV throughout the site, enhancing the pilot's ability to navigate in a straightforward manner.
Waypoints within the software consist of latitudinal and longitudinal points, and provide pilots with crucial mission planning information. Users can interact with waypoints via the joystick cursor control, performing functions such as naming, editing and deleting.
Pilots can save their missions to view at a later date, making analysis and review convenient. In review, users can conduct several useful tasks. including viewing of maps and mission paths, and opening and modifying CSV files.