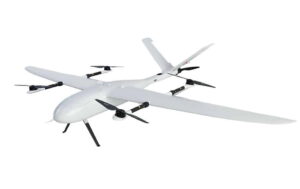 T-DRONES has launched the VA25, a new fixed-wing VTOL UAV (unmanned aerial vehicle) that provides a flight time of 2.5 hours with a 1 kg payload. The VA25 is T-DRONES' first VTOL platform, and features ultra-lightweight carbon fiber construction and Level 6 wind resistance.
With four VTOL rotors and a forward propulsion rotor, the 2.5-metre wingspan VA25 combines the manoeuvrability and quick deployment of a multirotor drone with the range and endurance of a fixed-wing aircraft. The UAV is highly portable and can be assembled in just three minutes without the need for any tools.
The VA25 is available from T-DRONES in a variety of RTF (ready-to-fly) configurations to suit a range of mission requirements.
Watch a video showcasing the new VA25 fixed-wing VTOL UAV below: