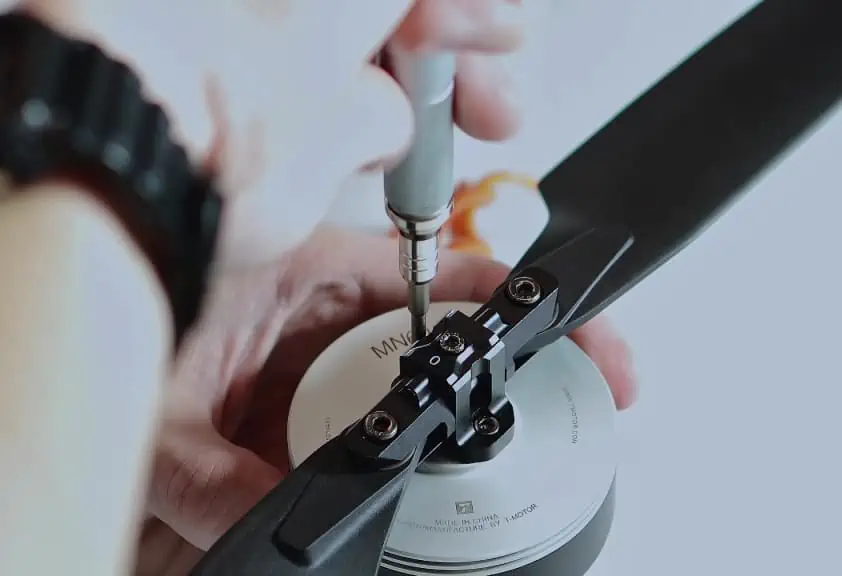 T-MOTOR, a partner of T- DRONES, has confirmed that it has developed a new variable-pitch propeller (VPP) system for multirotor UAVs (unmanned aerial vehicles). The design is intended to increase the maximum takeoff weight (MTOW) of the aircraft and improve power efficiency during hovering.
Multirotor UAVs rely on changes in propeller speed to adjust force and torque, thus controlling the motion of flight. However, fixed-pitch propellers do not always work at full efficiency under all conditions.
An example that highlights this is the use of drones for surveying at different altitudes. Particular models may have propellers designed for use at lower altitudes, resulting in a loss of performance when the drone works at higher altitudes. Operators can get around this by preparing a variety of propellers with different sizes and pitches to be swapped out in the field. This takes time and also introduces risks due to loose screws.
The creation of customized variable-pitch propellers is often hampered by certain issues. These include long production time for samples, differences between simulation and real-world flight tests, and high cost of customization. T-MOTOR thus decided to create an off-the-shelf product that would deal with these issues.
The VPP system features a device sitting between a pair of propellers that can be adjusted to multiple positions, with default angles of 2.5, 5 ,7.5, 10, 12.5 and 15 degrees and supporting T-MOTOR's MF series of propellers with sizes of 18,22 and 33 inches. This saves operators time and effort. The system can also be customized for other angles and propeller sizes.
To find out more about the VPP system, get in touch with T-MOTOR.