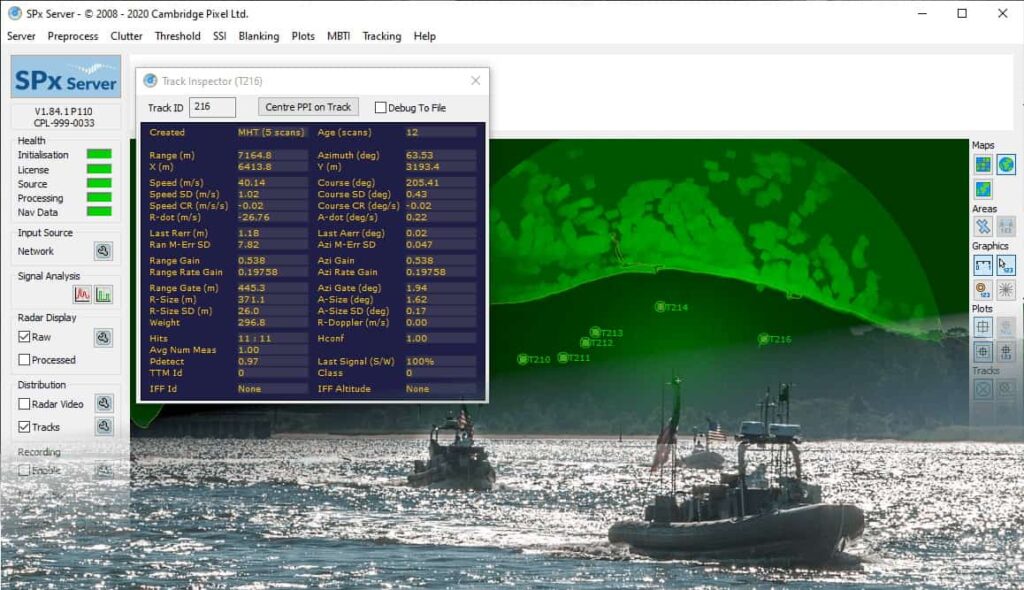 Spatial Integrated Systems (SIS) and Cambridge Pixel have collaborated to provide integration of innovative maritime autonomy and radar technologies for the U.S. Navy's Autonomous Surface Vessel (ASV) trials. The suite of systems provided included SIS' Multi-Agent Robotic Teams (SMART) Autonomy System, and Cambridge Pixel's SPx Tracker and SPx Fusion software and radar interfacing hardware.
The two teams took only a few months to integrate and fine-tune the fusion of several sensors, including S and X band radars from different manufacturers, and improve the SMART Autonomy System's perception capabilities. The technologies were installed onboard a large ASV as well as several patrol boat-sized vessels. Trials with the systems included multiple 300+ nautical mile autonomous journeys through areas of heavy maritime traffic, three 1000+ nautical mile fully autonomous journeys, and demonstration of a variety of sub-task operational missions.
The trials demonstrated the potential of maritime autonomous systems for the U.S. Navy, who are one of many entities around the world looking to adopt the technology for more effective maritime security, to combat terrorism, piracy and smuggling, to protect shallow waters and ports, and for environmental monitoring.
Bob Cepek, SIS Program Manager, commented: "From our long history working with Cambridge Pixel, we knew we would be successful in integrating and fusing multiple radars and sensors on different ships and boats with varying missions. We remain impressed by the Cambridge Pixel team's responsiveness and speed in overcoming some tough technical challenges."
Richard Warren, Director of Software at Cambridge Pixel, said: "We are very excited to be working on these transatlantic autonomous vessel projects with the robotics engineers from Spatial Integrated Systems to integrate our radar tracking and fusion software with the SMART Autonomy System to enhance situational awareness on these crewless vessels."
"Our radar-agnostic tracking and fusion software works seamlessly with many different maritime and specialist radar sensors. Our goal on the recent trials for the U.S. Navy was to configure our multi-hypothesis, multi-model SPx radar tracker and SPx fusion server to enhance the perception capabilities of SIS's control system in this very demanding environment. We look forward to further collaborations with SIS in this fast developing new and innovative market."