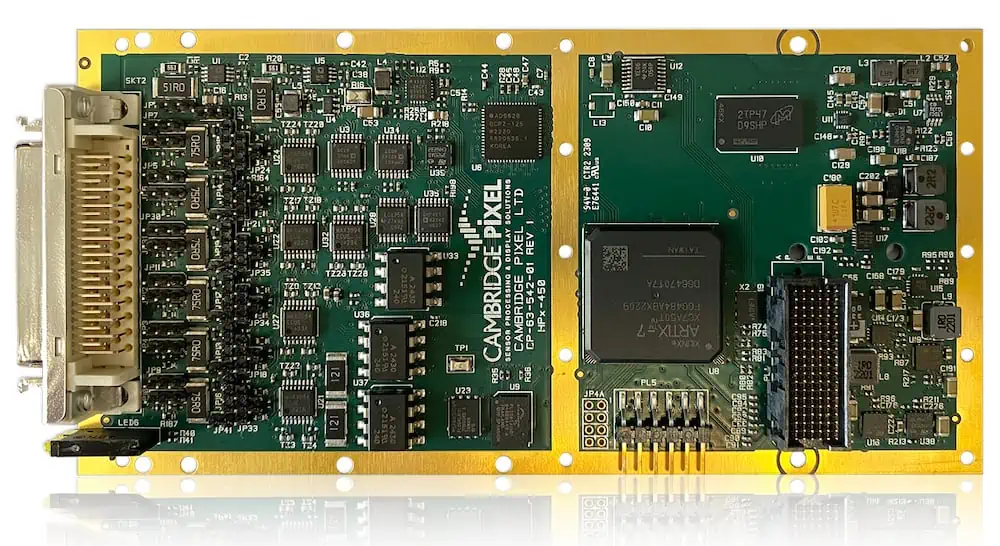 Cambridge Pixel has released the HPx-450, a new enhanced-performance XMC dual-stream radar acquisition card designed to provide a highly flexible module for radar acquisition.
The XMC Switched Mezzanine format provides the flexible, high performance needed for embedded systems. Available in commercial and extended temperature variants, the card has been designed for use with VME, VPX and Compact PCI processor cards.
A wide range of interfacing options supports different radar signal types including single-ended, differential, open-collector, opto-isolated and programmable thresholds, allowing interfacing to standard trigger, azimuth and video signals. A PCI Express x4 interface supports data transfers of over 500 MB/sec, allowing high-resolution radar data from multiple channels to be sampled and captured.
The new hardware is fully supported in Cambridge Pixel's range of radar processing, target tracking, network distribution and radar visualization software. For custom developments, a board support library with SDK is available, optionally with the SPx Development Library for radar processing and display.
The HPx-450 is the latest in a family of radar interface products from Cambridge Pixel, offering support for radar acquisition in different form factors from desktop PCI Express through to VME processors and including stand-alone radar-to-network converters. The HPx-450 XMC card maintains compatibility with the earlier HPx-250 PMC card.
David Johnson, Managing Director of Cambridge Pixel, said: "The HPx-450 expands our range of radar interfacing products to support the latest XMC mezzanine standard. This supports demanding military applications using VME, VPX or Compact PCI form factors, where ruggedness of the 6U form-factor is especially relevant."