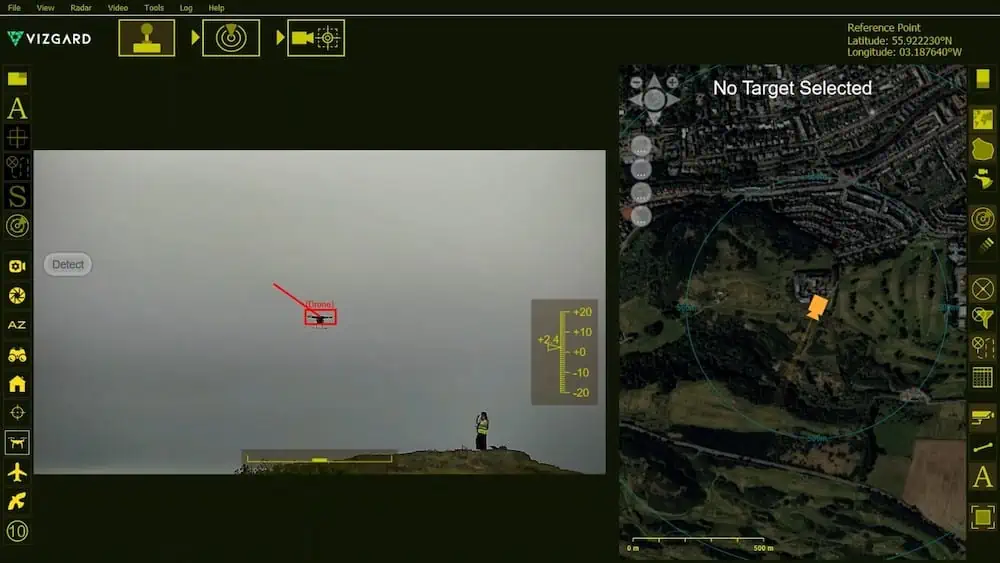 Cambridge Pixel's VSD security display software for radars and cameras has been used by a consortium in a Defence and Security Accelerator (DASA)-funded demonstration that included visual tracking of a UK police drone.
A nine-month project funded by a DASA Security Rapid Impact Open Call, with support from two UK police departments, explored the use of vision-based 360° Detect and Avoid (DAA) capabilities for Beyond Visual Line of Sight (BVLOS) drone operations.
Cambridge Pixel joined a consortium with Vizgard and Gibson Robotics to combine its advanced capabilities for the final project demonstration in early July 2023, at the Edinburgh Royal Observatory.
Vizgard's onboard edge computer and an upgraded FortifAI computer vision server were used to simultaneously process six 4k video streams. Near-real-time classification of aerial objects, including other drones and their true bearings, were streamed through an encrypted cellular connection.
A key aspect of the project was demonstrating how a vehicle-mounted Pan-Tilt-Zoom (PTZ) camera system could autonomously monitor the local airspace and maintain persistent visual tracking of the police drone. The VSD display software from Cambridge Pixel was employed with a local ADS-B receiver to clearly display the position of transmitting aircraft on a bird's eye map view. The advanced security monitoring with camera tracking and control provided by VSD made it an ideal solution to integrate with Vizgard's FortifAI, which leveraged a combination of Deep Neural Networks to track the drone and scan the sky for non-transmitting aerial objects.
VSD was upgraded by Cambridge Pixel to support even more radars, devices and video tracking. Vizgard's technology is also providing automated long-range 360° visual detection along the 'Skyway' drone flight corridor, which will connect Reading, Coventry and Cambridge in the UK.
Alex Kehoe, CEO of Vizgard, said: "Having had prior experience working with Cambridge Pixel on various C2 projects, I was already aware of the exceptional expert support we could anticipate for this project. With the integration of VSD and FortifAI, our capabilities have expanded, enabling us to cater to customers seeking to harness our AI for time-critical insight alongside their library of supported sensor technologies. This development not only broadens our service offerings but also creates exciting prospects for potential partnerships with other sensor providers, whether it be for C-UAS or more general security applications."