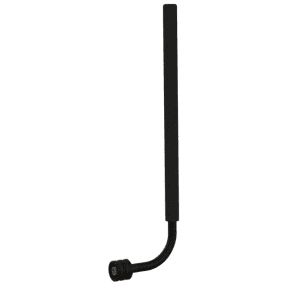 Southwest Antennas has introduced two new omni-directional antennas for use in UHF and ISM band applications. Ideal for tactical radio systems, MIMO & MANET radio systems, handheld video receivers, unmanned robotics platforms, and other applications, they come in either a Ultra-Flex sealed spring base or flexible gooseneck base.
902 – 928 MHz band coverage is ideal for unlicensed ISM-Band communication networks for voice, data, video, low-power video links for federal law enforcement surveillance and communication systems, and military radio systems. Introduced in a sealed Ultra-Flex spring base which enables the antenna to be deployed in all conditions and prevents rain, dust, dirt, mud or other substances from fouling the spring. The spring also helps prevent damage to mated RF connectors.
698 – 970 MHz operational frequency range suits this antenna to many UHF and ISM applications, including Public safety interoperability applications in the 800 MHz band, where Federal agencies coordinate with local law enforcement and first responders during emergency operations.
Full specifications can be viewed for both products below:
Part #: 1001-237: 902 – 928 MHz, 2.15 dBi Gain, Ultra-Flex sealed spring base, Type-N(m) RF Connector.
Part #: 1001-340: Omni-Directional Half Wave Dipole, 698 – 970 MHz, 2 dBi Gain
Integrated, flexible gooseneck base, Type-N(m) RF Connector.