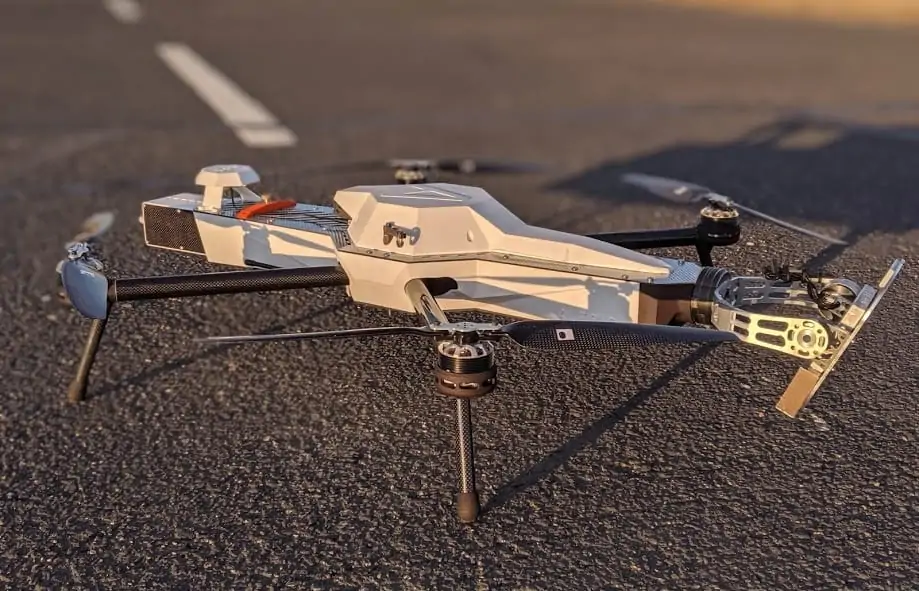 Black Swift Technologies (BST), a developer of unmanned aerial systems (UAS) for scientific and commercial applications, has announced the launch of the Black Swift E2 UAS, an advanced quadcopter drone specifically designed for automated industrial and structural inspections.
The Black Swift E2 features a folding design that allows the drone to fit into a custom carrying case for easy transportation and robust protection in transit. It utilises a front-mounted easily-swappable payload bay that allows operators to gain a full field of view even when the aircraft is vertical, and is compatible with a range of sensors such as RGB and multispectral cameras, laser positioning and guidance systems, LiDAR, trace gas sensors and radiometers. The drone's battery pack is also quick and easy to change.
The E2 uses BST's SwiftCore flight management system (FMS), which consists of a state-of-the art autopilot and intuitive user interface designed to automate missions in difficult conditions with minimal user training. The SwiftCore leverages advanced machine learning for preventative maintenance and is currently being tested in state-of-the-art machine vision research to enable routine flights beyond visual line-of-sight (BVLOS).
With BST's proprietary Flight Planning User Interface, operators can program the Black Swift E2 in minutes to calculate the area under review and begin collecting data for immediate analysis and decision making. Flight planning, mission monitoring and mapping can all be performed from a handheld Android tablet loaded with BST's SwiftTab software. Gesture-based controls enable users to confidently deploy the UAS with minimal training, while collecting data in diverse environments. RTK GPS corrections are available to provide even greater location accuracy and tracking.
Oier Peñagaricano, CEO of automated industrial inspection firm Alerion, commented: "The Black Swift E2 is our UAS platform of choice for conducting wind turbine inspections. It provides us with unparalleled performance, even in extreme conditions like heavy rains and high winds. The Black Swift E2 can be fitted with our patented laser navigation technology, permitting high-precision navigation up close to structures such as viaducts, airplanes, and commercial wind turbines, both onshore and offshore. With the press of a button, the Black Swift E2 can perform a fully-autonomous wind turbine inspection and real-time damage identification in as little as 15 minutes."
Jack Elston, PhD., CEO of Black Swift Technologies, stated: "Our partnership with Alerion has resulted in the most advanced autonomous inspection drone on the market today. The combination of BST's avionics and flight management system perfectly complements Alerion's computer vision-based navigation and edge computing capabilities. It's an unmanned inspection solution unrivalled in the industry right now."