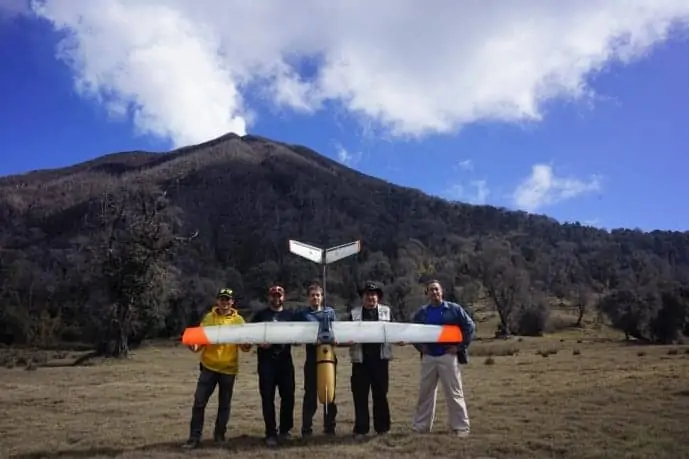 Black Swift Technologies (BST) has announced a successful collaboration with NASA's Jet Propulsion Laboratory (NASA/JPL) to capture airborne carbon dioxide measurements via an unmanned aircraft system (UAS) flying over the forest canopy near an active volcano. By measuring and monitoring the prevalence of volcanic gases like CO2 emitted from the vents and fractures of active volcanoes, NASA/JPL hopes to better understand how volcanoes work and their consequences, and improve volcano eruption planning and warning capabilities.
The flights were conducted in Costa Rica with the assistance of Dr. Jorge Andres Diaz and his staff from the University of Costa Rica using Black Swift's most advanced sUAS, the Black Swift S2, equipped with sensors designed to measure CO2 and water vapor being emitted by the volcano. Future flights of the Black Swift S2 will incorporate sensors capable of measuring methane (CH4), hydrogen sulfide (H2S), and sulfur dioxide (SO2) as well as a nephelometer to assess volcanic particle size and distribution, coupled with atmospheric probes to analyze pressure, temperature, humidity, and three-dimensional wind patterns.
While satellite measurements of ground deformation and passive CO2 degassing continue to be monitored, these science flights have demonstrated that a purpose-built drone can more accurately measure the compounds present in the gas plumes released from vents and fractures all around the volcanoes, including those obscured by tree canopy, to help quantify the life cycles of volcanoes.
"A drone can go places more effectively than ground personnel or costly manned aircraft," said Jack Elston, Ph.D., CEO of Black Swift Technologies. "Our goal was to deploy a sUAS in a challenging environment that was capable of following the contours of the forest canopy around a volcano to sample gases horizontally and vertically to obtain real-time data on how a plume varies over altitude, as opposed to satellite observations, which might just capture an average value over its entire column."
Understanding volcanic gases is essential to understanding how and why volcanoes erupt. Research and evidence has demonstrated that levels of emitted CO2 can be measured to predict the risk of a volcanic eruption because they are indicators of what is happening inside the volcano. Enhanced levels of gases being released into the atmosphere from volcanic vents and fractures, fumaroles and by diffuse flank emissions indicate a higher chance of eruption. By studying the composition of this gaseous mixture and monitoring fluctuations in their composition, scientists have discovered that they can better predict the likelihood of a volcanic eruption.
Volcanic eruptions occur incessantly. According to Florian Schwandner, Ph.D., a volcanologist at UCLA and member of a research team based at the Jet Propulsion Laboratory, "Large explosive eruptions occur annually at 50-60 of the world's approximately 1,500 potentially active volcanoes, posing significant health and economic risks for close to one billion people, and their atmospheric impacts include climate forcing and aviation hazards." He went on to state: "In late January 2018, over 70,000 people were safely evacuated as Mayon volcano in the Philippines started erupting. The timeliness of this critical notification was the result of volcano observatories informing Volcanic Ash Advisory Centers (VAACs) and local authorities of precursory symptoms detected as a result of diagnostic monitoring of the volcano. Increases in CO2 emissions are one of the earliest indicators that a volcano is reactivating and might erupt, but it's really hard to put instruments on so many volcanoes, especially in the tropics."
NASA/JPL's use of sUAS's will provide targeted, in situ observations from previously inaccessible regions advancing volcano science and monitoring by quantifying the life cycles of volcanoes globally and help provide new insights into volcanic activity.
Leveraging BST's proprietary SwiftCore Flight Management System, NASA/JPL scientists can program the Black Swift S2 in minutes to calculate the area under review and then begin collecting data for immediate analysis and decision-making. SwiftCore's high-performance autopilot function allows the science team to deploy the Black Swift S2 at both AGL (autonomous variable height following terrain) and MSL (near constant height). Additionally, the modular design of the payload compartment of the Black Swift S2 provides for quick turnaround between flight deployments enabling scientists to quickly change out or calibrate the sensor payload, or to replace components impacted by the degradation gases like concentrations of sulfur dioxide cause.
With its intuitive interface, flight planning is easy to accomplish. Mission monitoring and mapping is all done from a handheld Android Tablet loaded with BST's SwiftTab software. Gesture-based controls enable users to confidently deploy their sUAS with minimal training while being able to collect data over geography that is topically diverse with confidence.
"sUAS have already enabled us to routinely observe our world in ways we've never thought possible," Elston stated. "Moving forward, increased autonomy will make operations simpler and safer, allowing for widespread adoption of sUAS for a broad range of scientific studies."