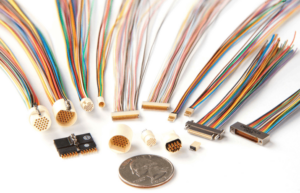 Omnetics Connector Corporation has released a whitepaper highlighting the use of miniature interconnect solutions for sensors in systems deployed under extreme environmental conditions.
As chip and electronic device technologies have advanced, so too has the ability to use multiple sensors within one coordinated interface network. This has opened up a wide variety of new capabilities for data gathering, surveillance, and other UAV (unmanned aerial vehicle) and robotics applications.
Download the full whitepaper here
The whitepaper covers:
Details of modern sensor applications in the military, scientific and industrial sectors
How interconnection systems in sensor applications often depend upon miniature connectors
The requirements for cables and connectors used in ruggedized applications
Features of Nano-D and other connectors that help them to maintain reliability and signal integrity under highly challenging conditions
Design considerations for interconnection systems in precision sensor applications
To find out more about the use of miniature interconnect solutions for demanding sensor applications, read the full whitepaper here.