Omnetics explain the use of eVTOL wiring and connection systems, including a specialty check list that can help users select or design the right connection system for their unmanned aircraft. 
---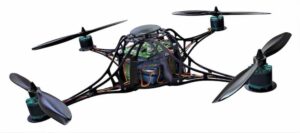 Introduction: High reliability eVTOL systems can challenge interconnection designs with a wide variety of demanding requirements simultaneously. As new vertical flight craft are being designed, we must consider the overall system requirements such as size, weight and ruggedness and subsequently review each electrical unique application onboard the aircraft to design and fit that area within the system. The combined goals include ensuring optimum signal integrity to each of the various functions of the craft simultaneously to fitting into unique space and configurations. European standards such as EN3475 and U.S standard wiring specification AS4373 are necessary requirements for general aviation wiring safety and performance. Additionally, the designer must review and comply with multiple flight equipment and safety regulations aimed specifically at the connector and cable systems.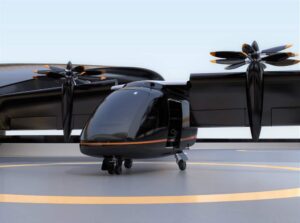 We are seeing an evolving list of eVTOL and or FVL, (future vertical lift) standards that mirror or are borrowed from military and flight specifications. In the USA, these include requirements for future attack and long range assault, (FLRAA), Standard Military specifications, NASA materials and performance qualifications. Specifications and directions from the European commission's longer range look at Flightpath 2050 have led the way with established design requirements and standards to be followed.
An Evolution in Flight details: The big steps in today's eVTOL include much more than what first meets the eye, however. Early UAVs and drones, began expanding the data processing and onboard sensor usage and includes satellite coordination, advance surveillance imaging and higher speed digital data processing modules. Newer electrically driven vertical craft have added additional functions needed in human passenger services and safety, as well. As the passenger count climbs, the vehicle weight increases and this requires more robust vertical lift systems.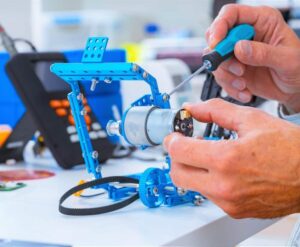 As the vertical lift systems get bigger and heavier, the lift props can add significant drag onto the plane that reduces both speed and travel distance capability. Electronic based devices will have to address rotating or collapsing rotors mid-flight to accommodate speed and distance needs to extend its capability. Much of the early literature in our industry has focused heavily on power and surge current delivery for eVTOL systems. As we expand functions and services on more sophisticated urban delivery vehicles, circuit designers will focus on a range of applications needing ruggedized miniature cable and connectors.
New cable and connector networks will contain many individual and combinations of signal and power routing needs varying from focus on high speed digital detection and direction signaling to power routing to detectors and actuators. Cables will also vary in length, flexibility, size and weight. In some cases, cable and connectors will also need to include shielding and cable braiding for high density signal packing and to provide noise abatement from external sources. We have built a specialty check list that may help in selecting the right connection system and or in custom designing exactly what fits and serves the whole aircraft in the best way.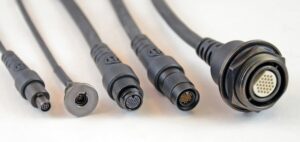 A Check List: The breadth and style of various cable design can begin with reviewing the many different applications on the eVTOL craft. This can help define and optimize both the best connector design, cabling material, wiring and routing required.
eVTOL wiring systems can be grouped into the types of wire and electrical service they perform in the listing below:
High current and power delivery for Rotor drive for lift and or thrust and direction control.
Flight control data and cockpit instrumentation.
Micro-wave and RF data received from satellite and radio connections.
Sensor data collection for performance and positioning such as GPS or Surveillance.
Mixed signal wiring that serves instruments requiring power, and signal data within one cable.
Passenger comfort wiring for entertainment, cockpit communications to the cabin.
Flight attendant, lighting and passenger safety.
Variations in cable design may be required for sensors reporting malfunctions, instrument temperature, fuel or energy levels. As eVTOL craft are employed for Urban transport networks new designs for craft mapping and collision avoidance will be required.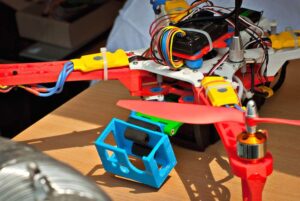 Examples and explanations: Image sensors, cameras and surveillance devices will need to be exterior and or near the exterior of the aircraft and wiring must withstand the environmental torture of weather, heat, wind, and high vibration while constantly supplying the images to processors inside. In some cases, the cable will need to be very small at the camera end and then connect to signal processors behind the cockpit display panel inside. (Notice the example photo of a drone circuit with multiple wires spayed onto the driver circuit but eventually routed to a larger metal connector and cable at the other end.) 
Similarly, machine drives that signal rotor angles, or sensor monitors on gyros and detectors must often be small, limp, lightweight and eventually be routed into a cockpit or control computer. Electrical circuit format from device to device will span the range from analog and power for relays and current source instruments to very low voltage and milliamp digital signals running up to 5 Gigabits per second.
Focusing more on Micro and Nano-wiring systems often requires specific attention to insure low voltage signal integrity for use in in eVTOL DESIGN. Power wire and connector systems have been covered and explained widely in previous technical papers and necessarily so. Recognizing each specific device on the system can help significantly as well as where it is exposed physically and the circuit technology it must match up with. As an example; GPS devices gather info from RF transmissions sent by LEO satellites and then must route that data to an instrument panel computer. Image cameras take photos outside the craft but must run through a processor to a display on the instrument panel. Altimeter and gyro sensors collect data for the flight computer etc.
The connector and cable designer must insure their interconnection is designed to survive and perform well beyond the standard specifications in truly extreme environments beyond the standard specifications. Rather than looking at testing connectors to pass general specifications, the system designer must begin a specific check list that focuses on the worst of times. It is also important to remember that "extreme performance" can range from a product operation in well controlled environments but must endure very high speed motion with millions upon millions of operations a day. By using a check list to compare potential hazards, one can define more about the best connector materials to use, what method of latching, or sealing or insulating is needed. Each portion of the connector and cable should be reviewed against the list. Omnetics focuses its miniature connector system on extreme environmental use where many consumer connectors do not.
Application-specific connectors and cables have come of age with the coupling of automated machining equipment and 3-D printing of first article products. Most often a solid model can be completed with two to three days for the design team to review.
Frequent reference to the harsh-environmental conditions will keep design on track and assure better performance in the end. One simplified list focuses on a mix of connector and environmental situations is shown below.
EVTOL CONNECTOR AND CABLE DESIGN CHECK LIST 
| | | | |
| --- | --- | --- | --- |
| Mechanical | Electrical Signal | Cable Design | Environmental |
| Physical abuse | Signal integrity | Outer jacket | Thermal Cycles |
| Shock | Voltage / Current level | Diameter/ Weight | U.V. or IR Exposure |
| Vibration | Signal speeds. | Bend radius | Petroleum exposure |
| Temperature | Noise effects | Frequency of Bends | Chemicals/ Battery acid |
| Locking Mechanism | Impedance | Stress in length | Dust/ Wind exposure |
| Water, depth and time | Digital Diff. Signals | Crush resistance | Explosion resistance |
| Number of Mates | EMI –Ingress / Out. | Immersion resistance | Outgassing Materials |
| Corrosion potential | Cable length vs signal | Chem. / Salt exposure | Testing of systems to meet Specifications |
| Salt, Acid exposure | RF signal protection | Round or Flat | |
| Acceleration | Connection Resistance | Number of Wires | |
| Circular or Rectangular | Surge current protect | Metal Shield Need | |
| Materials Compliance | Ground Return | VP of differential wires | |
| Pin spacing vs speed | Dielectric of Connector Insulators | Coax insulation dk. | |

In Addition: Work directly with your Connector and Cable Design Team to insure sections must meet required standards such as ES 3474 and AS4373.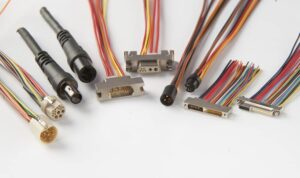 Saving Weight and Size while adding Sensors into the system. By focusing on the data acquisition from sensors, we most often only need smaller wire and cable routed back to the main instrumentation area. Circuit modules can be stacked and or assembled in low profile assemblies. The connectors on internal circuit boards and processors can be selected to save size and weight as well as offer extra circuit board space for higher density packing. Ruggedized Micro and Nano-connectors are separately wired to sense and detect devices for digital signal routing within the vehicle. This allows multiple sites for aircraft functions like attitude management, rotor angle monitoring, and image sensors, connections to and from satellite monitoring systems for GPS and communications are often used for USB data routing within the craft as well. It is critical that the miniature connectors and cable used that have been tested specifically for high shock, vibration, and exposure to extreme environmental conditions.
Omnetics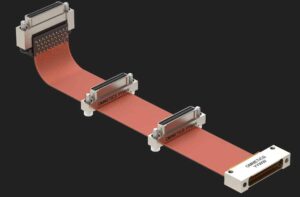 Micro and Nano-connectors have exceeded Military Specification standards and performed well on the battlefield, on aircraft and in ESA space satellites. The connectors are based upon solid metal BeCu, (Beryllium Copper), pins plated in gold over nickel. Liquid crystal polymer, (LCP), insulators are formed to securely hold the pin and socket elements. The complete connector is then mounted inside polarized aluminum shells and locked with jackscrews. All metal back-shells can be added and EMI or cross-talk shielding attached and extended over the cable assembly for tight and noisy electrical environments. Customized wiring of connectors at this reliability level is achieved by utilizing all of those key elements of the high-rel. connectors and modifying size and shapes to fit within new eVTOL modules. Connector pin layout and selection will be selected by electrical circuit designers to optimize signal performance. Cables may need to be designed and specified to match impedances, and avoid signal degradation over longer lengths. Crosstalk tests and shielding is often used to prevent signal to signal noise from one cable group to another. Mixed Signal connector and cable design is easily accomplished and can reduce both size and weight within the craft by reducing the number of connectors and wires needed in the aircraft. Designers can work on-line with Omnetics designers to develop connectors to match form, fit and function. When ready, a 3-d model is quickly built up for final assurance within the designer's office.
When there is no standard connector; of the needed size, shape or electrical capability to meet the circuit needs, a solution is immediately available by using experienced solid modeling designers and their interactive, on-line design work sessions. System designers can sit down with the connector designer and go through his new design needs to help define the new cable and connector.
The Omnetics "Three-Step-Process". To insure "Application Specific Connectors" will meet your needs and be available on-time!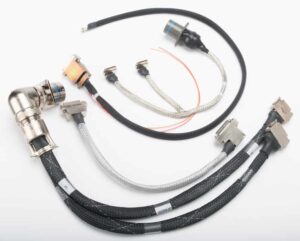 Designers can view miniature connectors with proven performance on our websites or discuss with our sales team. If one looks close, ask for a sample or discuss variations on email or the phone.
Connect with an Omnetics connector designer for on-line collaboration making a new solid model of exactly what is needed. This should take less little as 2 days.
When you like the solid models, ask for a 3-d sample made using automated material added process. This should take less than 24 hours.
The new 3-d model is shipped to the customer to fit it into his new application for final approval or/and re-define some specific change needed.