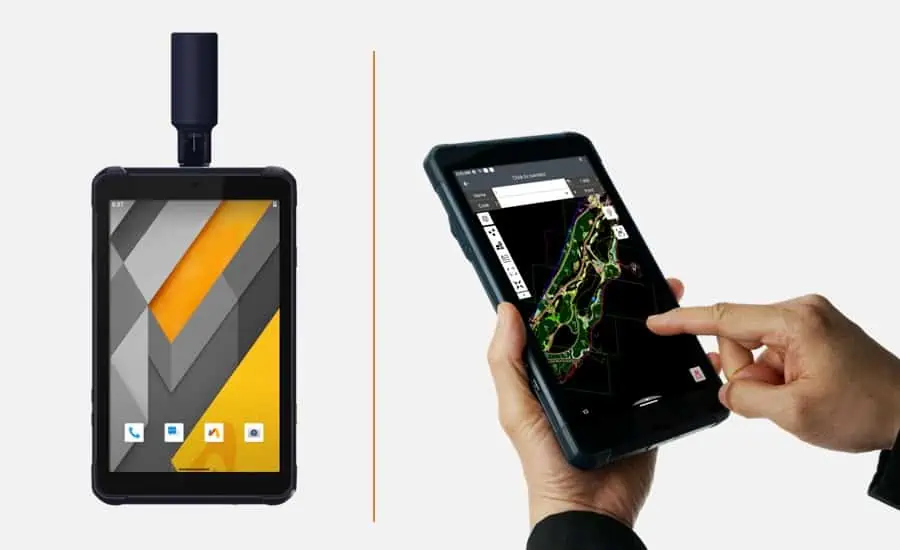 CHC Navigation has launched the LT800H, a rugged RTK GNSS-capable tablet specially designed for geospatial and mapping operations in the field. In addition to providing centimeter-level accuracy for collected data, the LT800H's industrial-grade design ensures robust outdoor performance and data security in any environment.
Field data collection devices used by mobile crews are subject to harsh conditions including weather and accidental droppages. With the LT800H rugged tablet, field crews can spend more time doing essential work without worrying about equipment failure, while their collected data benefits from unrivaled positioning accuracy. Whether in construction, environmental surveying, or other UAV-based mapping and surveying applications requiring a rugged, reliable Android device, the LT800H maximizes efficiency, minimizes downtime, and cuts long-term costs.
Featuring a high-performance 1408 channel GPS, GLONASS, Galileo, and BeiDou module and a GNSS helix antenna with excellent tracking capabilities, the LT800H RTK Android tablet delivers best-in-class centimeter-to-decimeter positioning accuracy in the most challenging environments. The integrated 4G modem ensures seamless connectivity and access to GNSS RTK network corrections.
Thanks to a high-performance processor, the tablet displays large maps and data sets without lag or slowdown. The sunlight-viewable 8.1″ Corning Gorilla Glass 3 IPS touchscreen offers a clear view in outdoor environments, boosting efficiency for field work. In addition, the LT800H's capacitive multi-touch screen allows data capture with a stylus, gloves, or wet hands to accommodate all working conditions.
The LT800H Android RTK tablet is designed to withstand harsh environments and adverse weather conditions, ensuring that data is safe wherever it is collected. It also offers an impressive 8-hour battery life, allowing the mobile workforce to focus on collecting data without interruption.