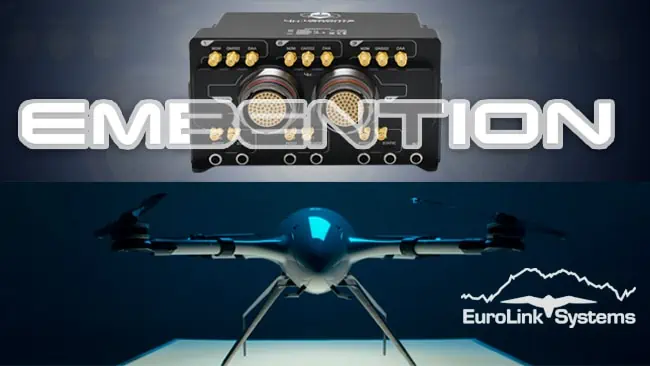 Embention, a company with more than 15 years of experience in the autonomous vehicle industry and specialized in the development of autopilots and high-performance systems for UAVs and eVTOLs, is collaborating with Eurolink Systems on the development of high-performance multi-mission UAVs.
After two years of research, Rome-based Eurolink Systems has completed development of its Beluga multi-mission UAV drone, with on-board AI.
The Beluga is specifically designed to operate in critical missions such as emergency medical transport, search and rescue, surveillance or precision agriculture, due to the integration of Embention's Veronte Autopilot 1x, a highly reliable flight control system that can be easily configured and allows the customization of control logics and the definition of fully autonomous control modes.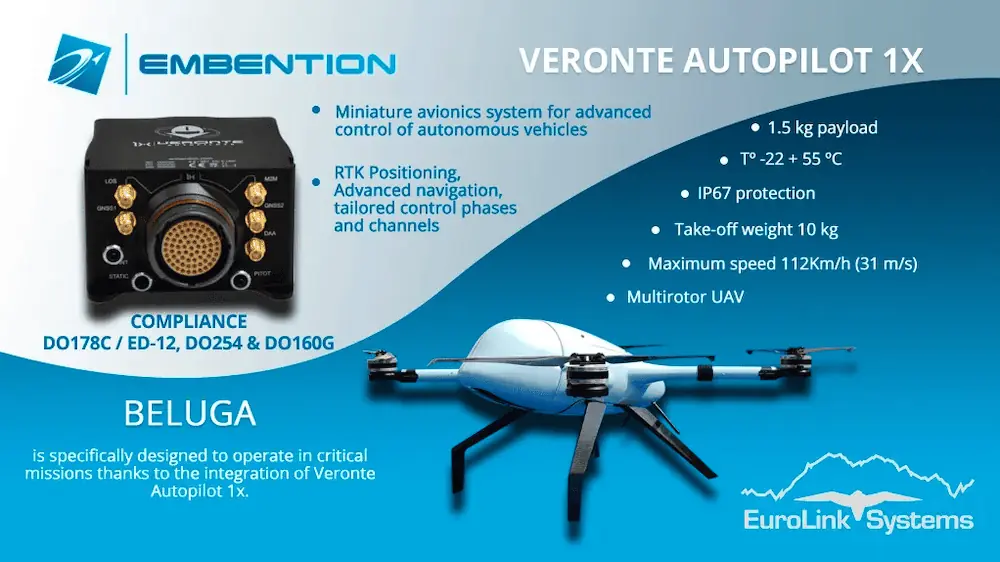 The main features of the Beluga UAV include:
Multirotor UAV
Maximum speed 112Km/h (31 m/s)
Autonomy of 60 min (1.5 kg payload)
IP67 protection
Operating temperature of -22 + 55 ºC
Maximum take-off weight of 10 kg
Ability to operate in critical mission applications
Veronte Autopilot 1x in Beluga UAV
The Beluga's ecosystem approach allows users to connect different drones in the same air and ground field, or to choose the same drone for different missions. In addition, thanks to Veronte Autopilot 1x, it offers advanced performance with a wide variety of functionalities applied to a multitude of different missions.
Veronte Autopilot 1x is developed in accordance with DO178C, DO254 and DO160G aviation standards and incorporates a suite of state-of-the-art sensors and processors together with LOS and BLOS M2M data link radio and ADS-B or Remote ID.
With Veronte 1x, users can define fully autonomous, assisted manual, full manual and Fly-by Camera control modes so that the operator can take control at any time during operation.
The integration of the Veronte Autopilot 1x turns the Beluga drone into a multi-mission UAS that offers safety and reliability for unlimited applications.