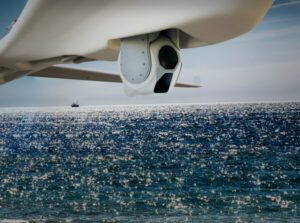 Trillium Engineering has launched the HD80-Artificial Intelligence – Maritime (AIM) drone gimbal, the company's latest camera innovation that combines its new SkyLink-AIM proprietary software with AI and its core imaging technology, to conduct wide-area search, surveillance, and vessel identification specific to maritime missions.
"By delivering automated target detection and identification capabilities in a single payload, the HD80-AIM reduces a customer's payload cost, payload weight and need for a complex aircraft," said Ryan O'Connor, Trillium's VP of Engineering. "In addition, the AIM's fully integrated AI system dramatically increases efficiency and accuracy for maritime customers—ultimately improving mission success."
The HD80-AIM contains two primary Full Motion Video (FMV) cameras including a 640×512 cooled MWIR camera with 10x optical zoom lens, and a 1080p visible camera with 36x optical zoom.
The pair accommodates close vessel inspection and identification from an undetectable range, and uses three image bands: visible, Near-IR, and Mid Wave Infrared (MWIR) to conduct the search in both day and night conditions.
Working in concert, the specialized sensors systematically and continuously scan the vast search area and highlight objects of interest, utilizing SkyLink-AIM onboard data processing software, search algorithms and AI. When objects of interest are flagged for human review, the HD80-AIM promptly notifies the operator and presents geolocation points with an image clip for further assessment.
"With the increase of illegal fishing, piracy, and search and rescue operations around the world, the HD80-AIM's quick and comprehensive analysis greatly increases the success rate of maritime missions covering vast areas of open ocean," said Matt Carreon, Trillium's VP of Business Development.
The HD80-AIM leverages Trillium's universal, core imaging technology with SkyLink software and is built upon the baseline configuration of the HD80 gimbal, which is currently fielded in variety of military applications.