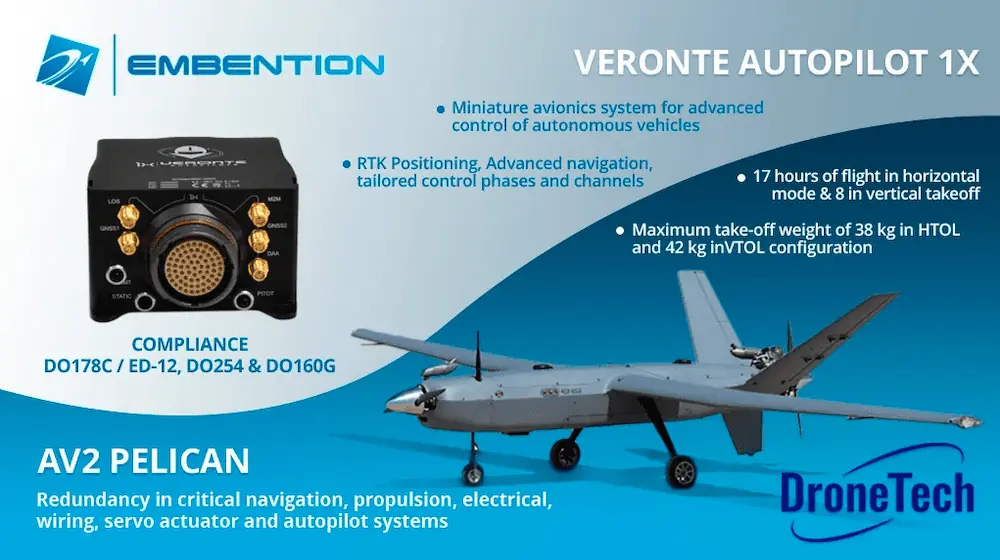 Embention has confirmed a new collaboration effort with Dronetech, a company specializing in the design and manufacture of Vertical Take-Off and Landing (VTOL) UAVs that maximize safety and reliability. 
Dronetech's AV-2 Pelican VTOL, designed with full redundancy, is a fixed-wing aircraft capable of vertical or Horizontal Take-Off and Landing (HTOL), with automated speed management to increase flight time or maximize distance travelled, thanks to the integration of Embention's Veronte Autopilot 1x, a flight control system that can be easily configured to control drones, UAVs, USVs or UGVs.
Veronte Autopilot 1x on AV2 Pelican
AV2 Pelican offers two configurations on the same platform as it is convertible into VTOL or HTOL. Propulsion is provided by two 4-stroke engines together with eight powerful electric motors for vertical propulsion. In addition, the AV-2 Pelican allows a multitude of missions thanks to its flexible configuration, and offers rapid deployment in less than 15 minutes with only one operator. The main missions for which the Pelican was designed are surveillance, mapping and leak detection.
The Veronte Autopilot 1x advanced flight control system integrated in the AV-2 Pelican is a miniature avionics system for advanced control of autonomous vehicles. This autopilot is developed in accordance with aviation standards DO178C / ED-12, DO254 and DO 160, with Veronte Autopilot being the only one to have proven compliance with these standards in a certification process and providing the reliable evidence required for UAV certification.
The Veronte Autopilot 1x incorporates a suite of state-of-the-art sensors and processors along with detailing LOS and BLOS M2M and ADS-B or ID Remote radio, all at a reduced size and weight.
For all these reasons, the companies believe the integration of Veronte Autopilot 1x in the AV-2 Pelican, together with its configuration flexibility and versatility, makes the AV-2 Pelican a safe, reliable and practical UAV capable of carrying out a multitude of missions.
Features of the AV-2 Pelican
The main characteristics of the AV-2 Pelican are:
More than 17 flight hours in horizontal mode and nine in vertical take-off
Maximum take-off weight of 38 kg in HTOL and 44 kg in VTOL configuration
Programmable or computer-assisted manual mode
Intelligent autopilot with emergency management module
Redundancy in critical navigation, propulsion, electrical, battery, wiring, servo actuators and autopilot systems
Maximum speed of 110 km/h, cruising speed of 90 km/h
Command center in different configurations: tablet, briefcase, vehicle mounted, or fixed