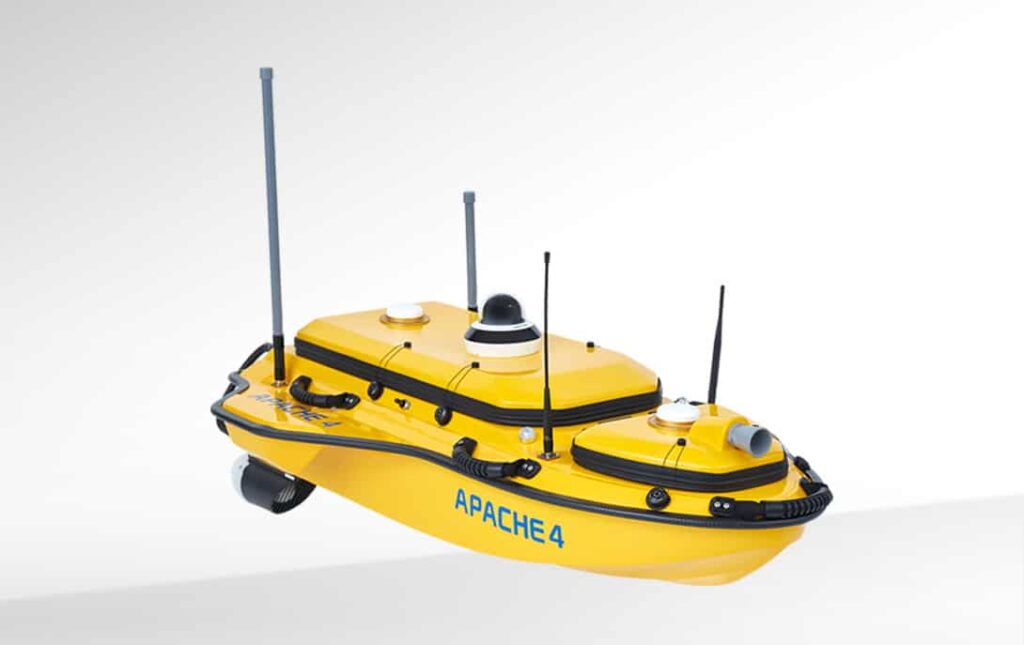 CHC Navigation (CHCNAV) has launched the APACHE 4, a new hydrographic USV that features a combination of an ADCP (Acoustic Doppler Current Profiler) for cross-section flow measurements and a single-beam echo sounder. The platform can carry all major ADCP sensors and provides hydrologists with an unattended operation solution with shallow drafts, high navigational accuracy, and stable hovering for conducting water flow velocity and discharge measurements of a current section.
The CHCNAV APACHE 4 provides modernized ADCP operations for marine surveyors and engineers, increasing efficiency, reducing costs and improving safety. As the water flow and turbulence change, the autonomous control system allows the APACHE 4 to navigate in a straight course along the cross section according to the defined profile view. The hovering technology improves the flow estimation accuracy and ensures that the APACHE 4 hovers stably in the turbulent flow at the start and endpoint of the ADCP observation.
The platform features an integrated GNSS-IMU sensor that maintains the availability of position data even during transient GNSS signal loss. The obstacle avoidance radar system and live video feed guarantee safe operations in case of loss of visibility or difficult environmental conditions.
The built-in single-beam echo sounder allows users to verify and compensate for the ADCP bottom tracking data accuracy, as well as to provide water depth profile data associated with the flow velocity profile measurement. The APACHE 4 can carry a variety of ADCP sensors, such as the M9, RTDP 1200, RiverPro or RiverRay, while providing them with positioning, orientation, power, waterproofing, local network and 4G transmission.
Felix Ye, Product Manager of CHC Navigation's Marine Division, commented: "We designed the APACHE 4 to provide a reliable solution that can eliminate the construction and maintenance costs associated with traditional ADCP ropeway towing systems, overcome irregular navigational conditions that lead to poor data results, compensate for the resulting loss of ADCP measurement data and maintain compass accuracy in challenging environments. The outcome is the APACHE 4, which solves these challenges and entails conducting the high accuracy hydrological and hydrographic surveys."