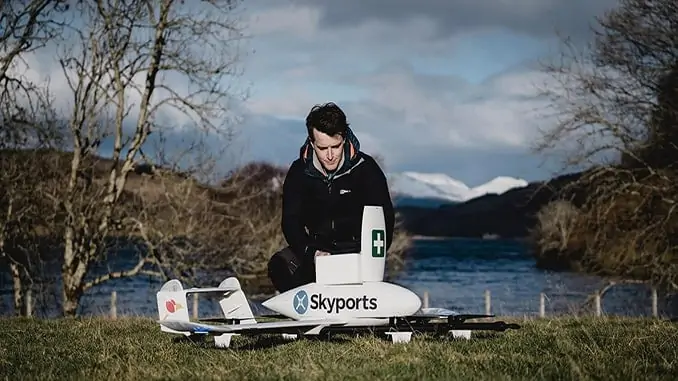 Kongsberg Geospatial's IRIS airspace situational awareness technology has been adopted by Skyports' logistics arm, Delivery by Skyports, to enhance their BVLOS (beyond visual line of sight) drone operations.
Skyports' drone delivery services have already been successfully used for the UK's first COVID test drone delivery service in Scotland with the NHS, as well as for an inter-island medical drone delivery service between the Isles of Scilly for Royal Mail.
The IRIS airspace visualization technology enables multiple drones and sensor feeds to be monitored simultaneously by a single operator. It provides real-time calculation of UAV separation, as well as line-of-sight communications to enable BVLOS operations. IRIS also delivers advanced real-time 2D and 3D visualization of all airborne track and weather data, as well as cues, alerts and warnings to enable a single operator to understand the complex airspace environment.
Duncan Walker, Chief Executive Officer at Skyports, commented: "Using drone deliveries within supply chains can create significant time and cost savings, as well as enhance critical services such as healthcare. The incorporation of Kongsberg Geospatial's unique technology will move us a step closer to implementing permanent drone delivery operations and underscores the viability of drone technology as a practical way to move goods, paving the way for wider AAM operations in the near future."
Ranald McGillis, President of Kongsberg Geospatial, said: "We're very pleased to be working with an experienced UAS services provider like Skyports. Their expertise in drone delivery flights between medical facilities in the Argyll & Bute region and their ability to manage large-scale projects provides an excellent and very unique use case for our technology."