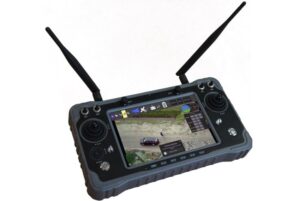 Vertical Technologies has released the new handheld DeltaQuad Controller for the company's UAVs (unmanned aerial vehicles). The controller uses state-of-the-art Device-to-Device (D2D) communication technology and smart bandwidth management to achieve a transmission range of up to 50KM.
Live video has been integrated not only for the DeltaQuad surveillance UAV models, but also for the mapping and inspection models with a live feed of the main camera as well as the FPV nose camera.
The new controller also features Automatic Object Following functionality, which allows the UAV to autonomously follow an object that is being tracked by the camera. This feature has been enabled for the DeltaQuad Pro #VIEW surveillance model, and allows the drone to autonomously follow a car, human or even another UAV. Using the touch-screen, the pilot can tap on any object of interest and activate the following switch. The DeltaQuad Pro will autonomously follow the object of interest until the pilot disengages the object following mode.
The controller is equipped with VPN secured mobile internet connectivity, through which it can transmit telemetry, HD Video and manual control input from the pilot. It allows instant switching between radio and mobile internet connections, providing redundancy, unlimited range, and remote sharing of video and control for larger screens or command center integration.
The DeltaQuad controller provides intuitive manual control in both fixed-wing and hover flight modes. This not only facilitates precision landing, but also allows the pilot to control the UAV directly at long range. The integrated FPV camera system provides situational awareness while the intelligent avionics keeps the UAV stable and at altitude when there is no control input.
Sander Smeets, CTO at Vertical Technologies, commented: "We listen to our customers, and strive to remain at the forefront of technological innovation. The demand for more control, more range, and more intelligent autonomy came together in this groundbreaking technology. We are proud to be the first VTOL UAV provider that offers live video mapping, automatic object following, full LTE integration, and UAV video & control sharing with command centers. All combined in a simple to use and affordable product."