DeltaQuad VTOL UAV
The DeltaQuad Pro DeltaQuad Pro series of fully electric UAVs is designed for high stability in both quadcopter and fixed wing mode, transitioning smoothly between the two and providing flight times of up to 160 minutes and operational ranges of up to 150 km. The unmanned aircraft feature fully autonomous operation from takeoff to landing, with communications options providing up to 30 km radio range, or potentially unlimited range using VPN secured mobile networks.

Based around the open-source PX4 professional autopilot firmware and Pixhawk flight controller ecosystem, the DeltaQuad platform is highly customizable with constantly tested and updated avionics. With a 1.2kg payload capacity, DeltaQuad can field a wide variety of payloads, including image and video cameras, environmental sampling sensors, and custom integrations.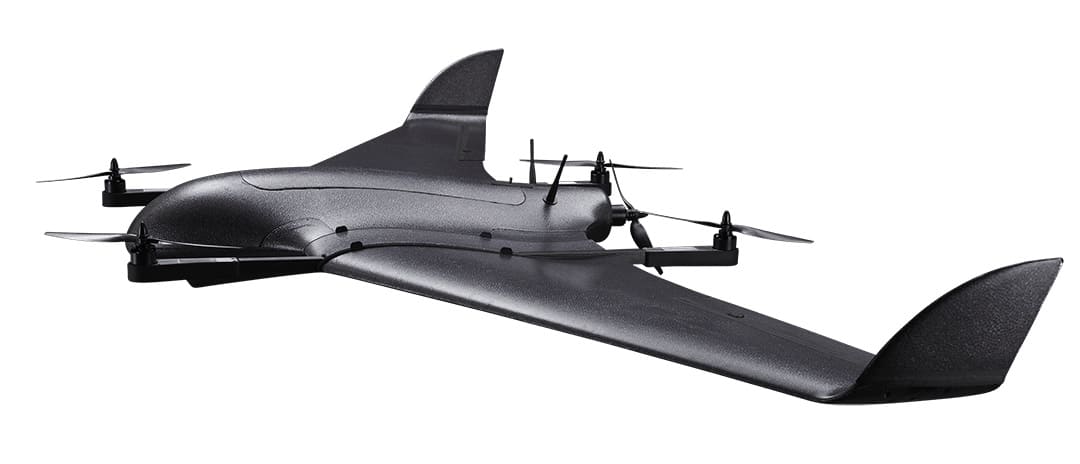 Each DeltaQuad UAV is supplied with flight simulator software that allows users to test-fly potential missions and get acquainted with the ground control station before flying under real-world conditions. Other software tools provided for the DeltaQuad platform include an online flight log visualization system and a Mission Validator that allows pilots to ensure that a mission plan follows best practices and is safe to fly.
The DeltaQuad Pro VTOL UAV is available in the following models:
UAV for inspection, mapping & surveying purposes
✔ RGB, Multispectral & Thermal/IR
✔ Flight time of up to 110 minutes
✔ Coverage up to 1200HA (3000AC)
✔ Up to 61 megapixel camera
✔ Live video connection with UAV
UAV for surveillance & reconnaissance purposes
✔ Thermal/IR & RGB
✔ Flight time of up to 110 minutes
✔ Autonomous Object Following
✔ 360° gimbal & 80x zoom
✔ Live HD video up to 50 KM
UAV for transportation or custom sensor integrations
✔ Flight time of up to 2 hours
✔ Full 1.2KG payload available
✔ Payload drop mechanism
✔ Customizations possible
✔ Live FPV video
DeltaQuad Platform Specifications:
Wingspan
235 cm
Length
90 cm
Payload Bay Dimensions
20 x 12 x 8 cm
MTOW
6.2 kg
Payload Capacity
1.2 kg
Cruise Speed
18 m/s (65 Km/h) – no payload
16 m/s (60 Km/h) – 1 kg payload
Maximum Speed
28 m/s (100 Km/h) – no payload
25 m/s (90 Km/h) – 1 kg payload
Cruise Speed
2+ hours – no payload
1 hour 50 mins – 1 kg payload
Cruise Speed
120 km – no payload
100 km – 1 kg payload