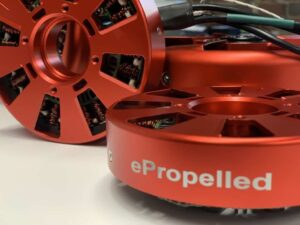 UAV Propulsion Tech has entered into an agreement with magnetic engineering technology firm ePropelled to distribute the company's electromagnetic motors and market their products to the UAV (unmanned aerial vehicle) and UAM (urban air mobility) industries.
ePropelled supplies a variety of electric propulsion products, including motors, motor controllers, starter generators, and power management units. The company's patented magnetic gearing technology is a combination of motor design and software control that provides a more efficient method of electric propulsion at different torque and speed levels.
UAV Propulsion Tech represents a variety of global defense and commercial UAV technology and hardware solutions providers. Their products include COTS and custom propulsion systems, autopilots, gyro-stabilized EO/IR gimbals, inertial navigation systems and many other proven solutions that have been integrated into high-end drone platforms around the world.
UAV Propulsion Tech founder Bob Schmidt said: "UAV Propulsion Tech has been looking for advanced UAV DC motor and generator technology to support the needs of our customers and are happy to be working with ePropelled. ePropelled's electric motors are assembled in the USA and fill a need that is currently dominated by poor quality solutions that do not meet our customers' weight, performance, or reliability requirements. ePropelled's patented technology surpasses the competition in efficiency and weight and includes health monitoring functionality not currently available on the market."
Nick Grewal, CEO and President of ePropelled, commented: "Bob Schmidt, the President and founder of UAV Propulsion Tech, has been instrumental in building relationships in this industry with suppliers, designers, and manufacturers and has a clear understanding of the customers' needs. His expertise is exactly what we need to further penetrate this market."