DeTect, a leading developer of UAV (unmanned aerial vehicle) and drone detection, monitoring and defense systems, has partnered with Unmanned Systems Technology ("UST") to demonstrate their expertise in this field. The 'Silver' profile highlights how their advanced intelligent radar and remote sensing technologies can be used for security and surveillance applications, as well as for long-range monitoring of BVLOS (Beyond Visual Line of Sight) drone operations support.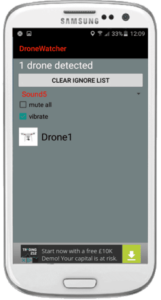 DroneWatcher is a multi-tiered UAV and drone detection and defense solution incorporating three different state-of-the-art technologies that can be used independently or combined to form a layered, highly customisable drone tracking and interception platform.
DroneWatcherApp is a sophisticated drone detection app for Android smartphones and tablets that can detect and track approximately 95% of consumer and prosumer drones currently on the market, and is available in free, Pro and Pro Premium versions.
With the ability to record a variety of information including drone type and ID, and an operational range of up to half a mile, DroneWatcherApp can be used to document rogue drone incidents and assist law enforcement in suspect apprehension and prosecution.
DroneWatcherRF extends the functionality and range of DroneWatcherAPP with a compact, standalone electronics enclosure that can be mounted at the perimeter of a facility with only nominal power and network requirements.
With an increased range of up to 2 miles and a continually updated database of drone RF signatures, DroneWatcherRF provides an ideal counter-drone solution for higher-level security requirements.
HARRIER DSR (drone surveillance radar) adds an advanced military-grade solid-state Doppler radar as a final layer to the DroneWatcher solution, enabling drone detection at over 2 miles even without RF or GPS signatures and in complex cluttered environments.
With the ability to detect and track not only small consumer and prosumer drones but also military cooperative and non-cooperative UAVs, HARRIER DSR deals with autonomous controlled drones not picked up by DroneWatcher's lower two layers, and can be interfaced with a wide range of ancillary sensors such as video systems and third party interception technologies.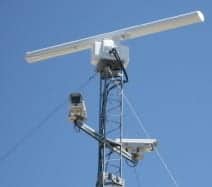 DeTect's HARRIER radars are designed specifically for detection and tracking of small targets with low radar-cross section and non-linear movement, making them ideal for protection against rogue drones as well as manned aircraft and marine vehicles.
HARRIER drone detection radars provide full, multi-functional surveillance coverage from ground level to above 20,000 feet AGL, and are capable of simultaneous air and marine target detection and tracking in high-clutter environments. Automatic drone ID and intrusion alerts provide real-time situational awareness of potential non-cooperative UAS threats.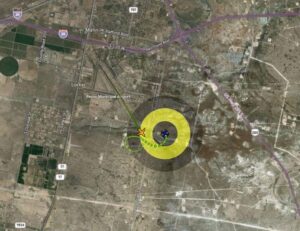 The HARRIER S200 Ground-based Sense-and-Avoid (GBSAA) is based on DeTect's proven HARRIER Air Surveillance Radar technology, and provides long-range airspace monitoring, enabling extended beyond visual line-of-sight (BVLOS) operations for UAVs. HARRIER S200 systems are available in fixed and mobile configurations, and can be customised for installation on many different vehicles, buildings and towers.
The system is based on solid-state Doppler S- or X-band radar, and simultaneously detects both transponder-equipped cooperative UAS as well as non-cooperative manned and unmanned aircraft up to a range of 20 miles. Both Secondary Traffic Advisory System (TAS) and Automatic Dependent Surveillance–Broadcast (ADS-B) are supported, and flexible risk alert zones and intrusion perimeters can be defined by the user.
To find out more about DeTect and their drone detection and monitoring systems for defense and BVLOS sense-and-avoid applications, please visit their profile page:
https://www.unmannedsystemstechnology.com/company/detect/