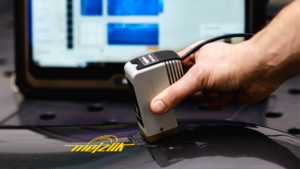 Mejzlik Propellers has released an article on ultrasonic inspection practices, exploring the advantages and uses. 
---
Non-destructive testing (NDT) is a significant concept in the realm of aerospace composite materials. This method allows for valuable insights into the material's structure and quality without the need for any damage. One of the key approaches within NDT is ultrasonic inspection.
Ultrasonic inspection has become an integral part of composite material examination techniques. This method employs high-frequency sound waves that are non-harmful and pass through the material. When encountering the boundary between different materials or a defect such as cracks or delaminations, the direction and speed of the waves change. This enables the detection and analysis of various types of flaws and imperfections.
Ultrasonic inspection offers numerous advantages for assessing composite materials. It is capable of detecting small and deeply embedded defects, which is crucial for ensuring the safety and reliability of composite components in aviation. Furthermore, it enables swift and efficient inspection, a key factor in manufacturing processes.
The article also looks at real use cases demonstrating the application of ultrasonic devices at Mejzlik, advantages of ultrasonic inspection when assessing composite materials, and more.