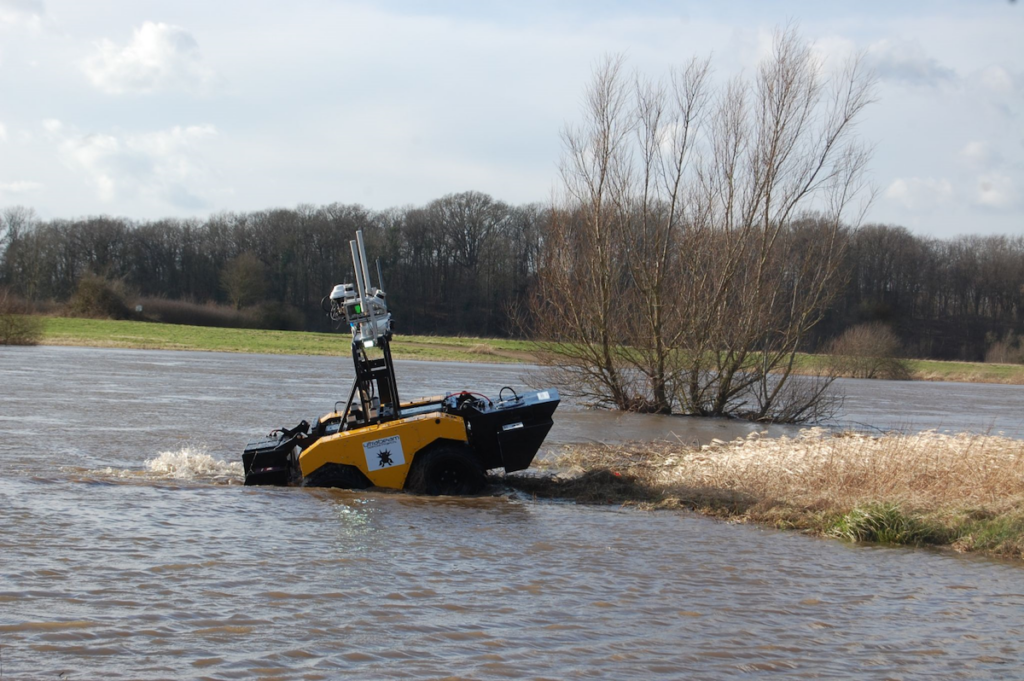 Defense departments are constantly looking to improve the safety of armed forces personnel and equipment in regions experiencing conflict. To this end, in 2020 the UK Defence Science and Technology Laboratory (DSTL) launched its "Map the Gap" competition, inviting engineering firms to design and build a vehicle capable of quickly, reliably and safely surveying "wet gaps" (rivers, streams, canals and waterways) without putting reconnaissance engineers and other personnel, such as divers, at risk.
The survey data can then be viewed and the best and safest crossing points for troops and equipment can be determined. This is a critical consideration for armed forces, given that crossing wet gaps is a notoriously slow exercise that typically makes personnel and equipment vulnerable to attack.
Advanced Navigation's Spatial FOG Dual presented an effective solution for a complex and challenging autonomous hydrographic surveying project.
The challenge: Building a hydrographic survey-anywhere vehicle to assist defense forces in safely crossing wet gaps
Some of the parameters around the challenge included taking measurements and gathering data for water depth and flow rate, crossing length, river-bed topography, river bank height, shape profiling and assessment of ground load handling capabilities. The vehicles also had to be either remotely operated or autonomous, and had to deliver the collected data in a way that could be easily interpreted for quick decision-making. Practical aspects aside, innovation of the vehicle design was assessed, as was the ease of repurposing the sensors to other vehicles of opportunity. Cost of the solution was also capped.
With years of experience in the industry building bespoke vehicles for specific data collection purposes and outcomes, UK-based hydrographic survey company Ultrabeam was well set up for the competition. The first phase of Map the Gap required competitors to demonstrate a robotic vehicle that could satisfy the desired capabilities. The second phase required a clear plan to a specified interim technology readiness level and a roadmap to achieve in-service use. The team also had to meet additional field trials in an appropriate environment that included the vehicle entering and exiting the crossing site.
The challenge was multi-faceted and required multiple sensor technologies for simultaneous above- and below-water 3D surveys. For above-water use, dual LiDAR sensors produced high resolution point clouds of the surrounding environment. Below-water mapping, current and water flow measurement and substrate density testing involved a sensor suite consisting of a multibeam sonar, ADCP/DVL (Acoustic Doppler Current Profiler/Doppler Velocity Log) and cone penetrometer. The sensor package payload was unsuitable for a UAV (uncrewed aerial vehicle). A USV (uncrewed surface vessel) would need to be deployed and retrieved at the water's edge, exposing personnel to danger so, ultimately, an amphibious design was chosen.
Ultrabeam wanted the sensor package to be vehicle-agnostic, so it could be swapped to other vehicles as required. The team integrated multiple sensors into a single housing and selected the four-wheeled Axolotl vehicle for the second phase of the project.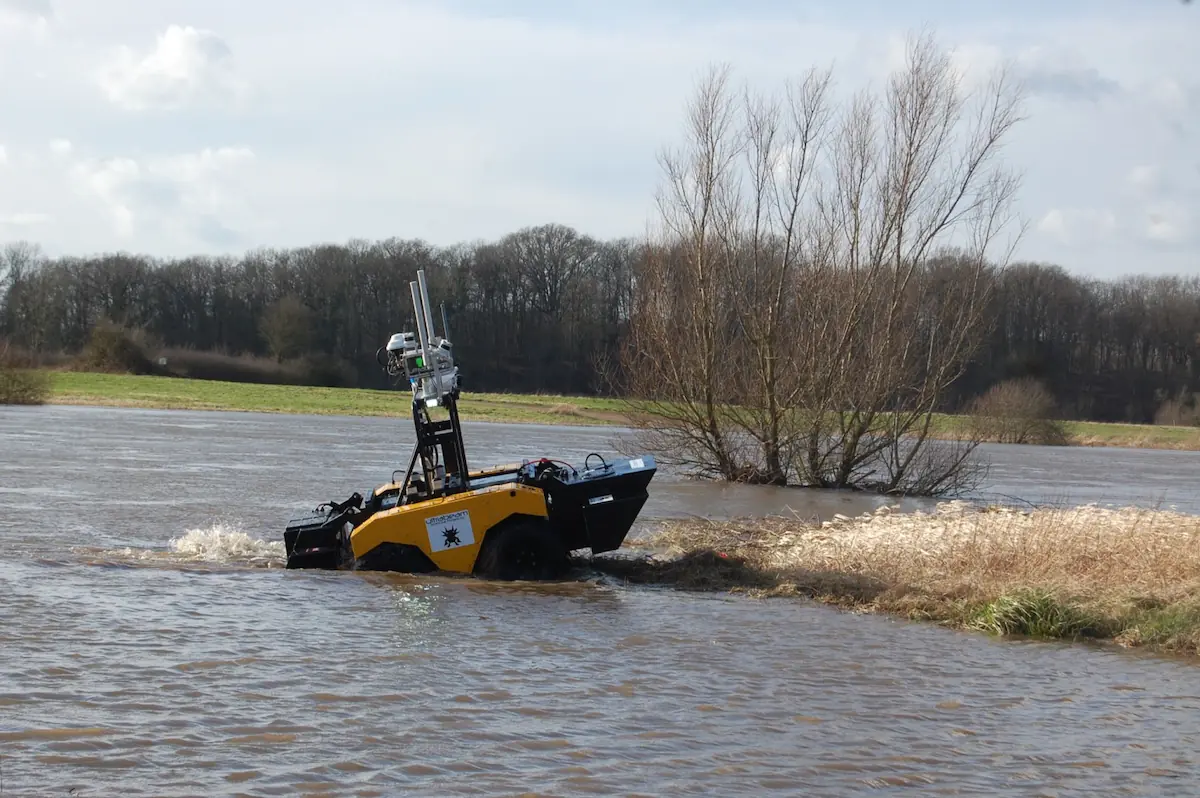 Fiber Optic Gyroscope INS technology improves Axolotl dead-reckoning performance
With the Axolotl, there is a large amount of data generated from the various sensors, all of which must be accurately geo-referenced for location and heading. Being a defense-based application, it is critical that the Axolotl can operate without reliance on GNSS. This requires a navigation system capable of dead-reckoning and maintaining accurate heading for extended periods of time. Advanced Navigation's Spatial FOG Dual, an industry-proven GNSS/INS, was selected for its high performance. Compared to the MEMS-based solution Ultrabeam had previously been using, which could maintain a suitably accurate heading without GNSS for up to approximately 60 seconds, tests with the Spatial FOG Dual could successfully maintain an accurate heading for 15+ minutes.
The Axolotl was a very short wheelbase vehicle, creating a tendency for it to change direction and orientation very quickly on rough terrain. Similarly, when in water, the robot was subject to additional movement and drift due to water current, surge and heave. These additional factors can make dead-reckoning for small watercraft extremely difficult. However, the Spatial FOG Dual's high sampling rate and optical gyroscope technology, which has no moving parts, make it less susceptible to shock and vibration-induced errors.
Form-factor and ease of integration were important considerations for the Axolotl. In this case, the compact size and relatively low weight of the Spatial FOG Dual immediately lent itself to applications beyond the competition. The Ultrabeam team wrote a software driver to integrate the Advanced Navigation solution into their survey management and mission control software. This enabled the Spatial FOG Dual to be used not only for survey purposes but also to provide motion data to the robot AI for autonomous mission control and for object detection and avoidance.
The Result: An effective navigation solution for a complex and challenging autonomous hydrographic surveying project
The positive results of the Map the Gap Phase 2 robot assessment and field trials led to Axolotl being recognised for its ability to complete the required survey and measurement tasks, design innovation, and implementation. The mechanical design, sophisticated sensor suite integration, extensive use of AI logic for autonomous mission control, decision-making and precise navigation were testament to a cutting-edge approach.
Since Map the Gap, Ultrabeam have deployed the Axolotl on commercial waterway survey missions, such as surveying bridge sites and attaining a clear understanding of river bed and water conditions. By being able to do this in a single pass and acquire all data types from the same position and point in time, the Axolotl has proved to be highly efficient and cost-effective for clients. The long duration dead-reckoning accuracy of the Spatial FOG Dual was essential to maintaining the course of the Axolotl during these missions, where GNSS is typically unavailable or very poor.
The Axolotl project has not only reaped dividends and accolades from competing in Map the Gap, it has also strengthened Ultrabeam's survey vehicle arsenal. By selecting the right components for the task at hand, while maintaining a vision for future applications, then carefully integrating each sensor package into a sophisticated AI mission control system, Ultrabeam have created a unique, robust, uncrewed autonomous hydrographic survey vehicle that is capable of simultaneously performing multiple high quality surveys on land and in water.