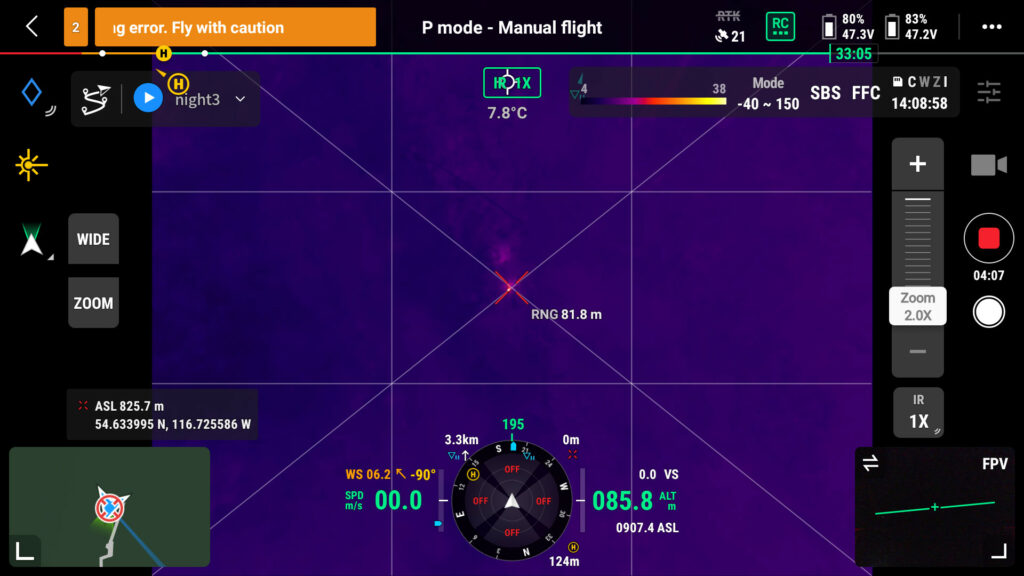 Volatus Aerospace has successfully completed its first field deployment supporting wildfire suppression agencies in Alberta, Western Canada with remotely piloted aircraft.
Wildfires can quickly and unexpectedly get out of control, a slight change in wind direction or speed and a fire can change course, reignite, and/or spread, leading to loss of property and life. A record 100,000 square kilometers of Canadian forest has burned this year alone.
Remotely collected aerial intelligence can help firefighters get timely actionable hot spot information about difficult to reach areas so that fires can be safely contained.
In this recent mission, Volatus drone pilots were deployed at night to gather timely data for situational awareness, ensuring high-quality data collection and minimizing airspace risk. The data they collect identifies wildfire threats that are not easily visible to the human eye.
"Fires are not always burning in plain sight, they can be smoldering inside tree trunks or in subsurface locations," said Walter Weselowski, Team Lead, Special Flight Ops for Volatus Aerospace. "Operating from a safe distance, a drone pilot trained in thermography can identify and geo-locate these hot spots as well as determine whether a contained fire is in danger of reignition, providing critical information to the fire management team to aid them with planning, resource management, and assigning tasks and priorities for the day. This process is a lot faster and safer than firefighters walking through hazardous terrain surveying the fire line."
"Climate change has the potential to increase the size and number of wildfires across Canada," said Glen Lynch, CEO of Volatus Aerospace. "In June, E&E News quoted research suggesting that 'the fire season will worsen in the coming decades as the climate changes' and went on to say that 'the Hudson Plains region – which includes parts of Quebec and Ontario – will likely see the number and size of wildfires increase faster than most other regions of the country.' Drones offer firefighters improved situational awareness and the ability to investigate sites that would otherwise be unsafe for firefighters or piloted aircraft. With the current and forecasted shortage of qualified crew for piloted aircraft, we expect the demand for remotely piloted aircraft to accelerate."
"We see the support of wildfire suppression to be a significant opportunity for drone technologies to make a difference," added Rob Walker, Volatus' COO. "This news follows our May 3rd announcement that Volatus was granted Transport Canada authority to fly beyond line of sight and above 400 feet to support wildfires across Canada, and our June 1st, announcement that Volatus pilots passed Hinton GRID testing to support wildfire suppression in Alberta. We are now at a point where drones can be seriously considered as one of the tools in wildfire management. Volatus has the necessary training, experience, equipment, and crew to start rolling this out across North America."