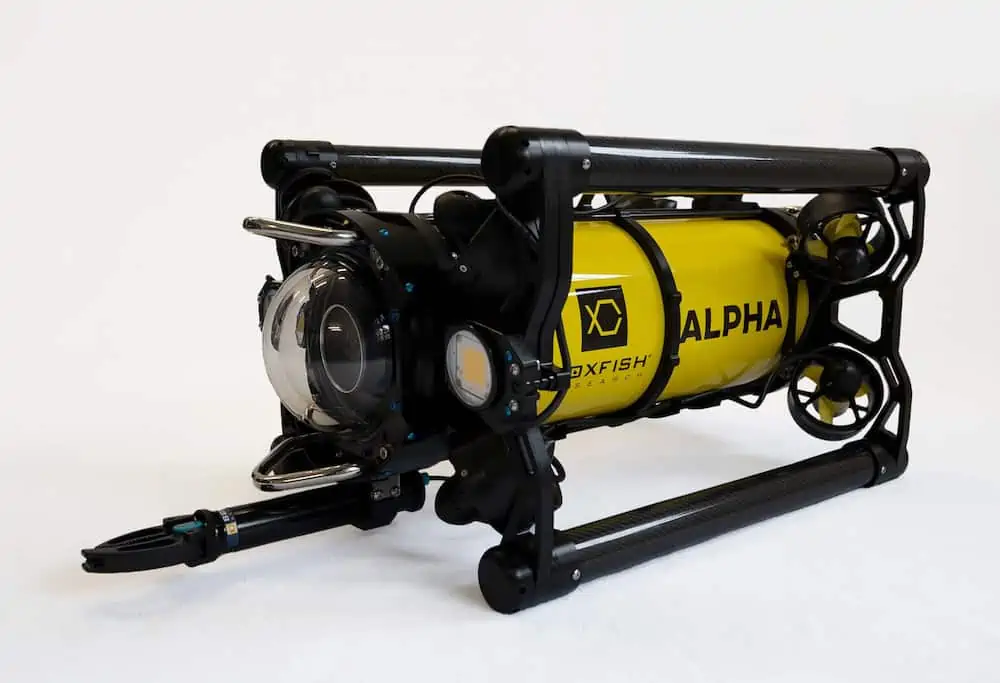 Boxfish Research has announced the launch of the Boxfish Alpha, the company's new inspection-class underwater Remotely Operated Vehicle (ROV) designed for regular inspections, search and rescue, and recovery missions.
Incorporating a data overlay on live-streamed and recorded footage, the Boxfish Alpha has been redesigned to allow commercial divers to seamlessly capture superior 4K video alongside essential log data, such as GPS coordinates and depth.
The Boxfish Alpha is portable, user-friendly, and easy to operate, meaning the vehicle can be quickly deployed underwater for asset condition assessment with minimal preparation and set-up time.
While small and lightweight, its sturdy, well-balanced design and eight vectored thrusters ensure Boxfish Alpha has the power and manoeuvrability to navigate strong currents in challenging underwater conditions.
Like Boxfish Research's other ROVs, it offers complete auto stabilization, precision control, and six degrees of freedom of movement, which means the agile vehicle can travel and orient itself in any direction.
The Boxfish Alpha is customized to allow commercial divers to streamline underwater inspection tasks and reduce costs whilst retaining functional flexibility.
The solution is designed for asset inspection, observation and light intervention work. Boxfish Alpha integrates a high-quality front camera for inspection videography with a rear navigation camera and has a battery run-time of 3-12 hours depending upon conditions. The ROV's front camera provides 6x true 4K zoom, facilitating non-intrusive examination of underwater assets at a distance. Photo Mode allows operators to snap detailed 20MP RAW and JPG stills quickly.
The lighting system, consisting of two 5,000 lumens lights mounted on moveable arms, offers optimal illumination for asset monitoring and photogrammetry up to Boxfish Alpha's depth rating of 300 meters. Users can add up to three accessories and sensors when required, including grabbers, sonars, and ultrashort baseline positioning. The durable, lightweight 2.7mm fiber-optic tether can also be upgraded from the standard 100 meters to 5,000 meters in length.
The versatile and reliable Boxfish Alpha is deigned to support commercial divers worldwide with inspection tasks for diverse assets, including water tanks, mines, jetties, bridges and pipelines
"With this new drone, we've adapted our innovative ROV for underwater asset inspection," said Craig Anderson, Co-Founder of Boxfish Research. "The Alpha provides commercial divers with an efficient and affordable method to perform underwater asset inspection tasks and deliver customer reporting."