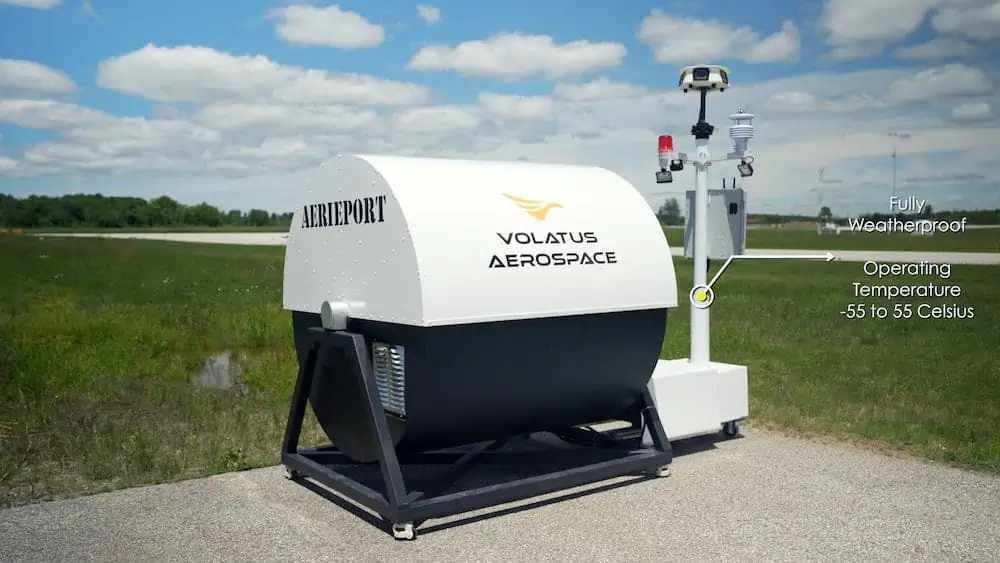 Volatus Aerospace has introduced its new autonomous remote drone nesting solution AERIEPORT at the Annual Energy Drone & Robotics Summit in Houston, Texas.
Designed to be drone agnostic, AERIEPORT is an all-weather solution that can operate remotely in extreme temperatures ranging from -67°F to 131°F (-55°C to 55°C). The system features an onboard weather station, a 4 SIM, 5G, highspeed LTE connection with SATCOM option, an integrated ground-based detect and avoid system, a mission planner and remote operations system.
"The AERIEPORT is designed to facilitate remote missions from anywhere in the world at any time," said Pedram Nowroozi, Chief Technology Officer of Volatus Aerospace. "It is a versatile, all-weather, remote system able to operate in any climate and completely off-grid if needed."
Rob Walker, Chief Operating Officer, added: "We're super excited about the potential of the AERIEPORT for customers in agriculture, security, renewable energy, oil and gas, mining, and construction to name a few."
Volatus is currently seeking special approval from regulators to operate the AERIEPORT without the need for a visual observer.