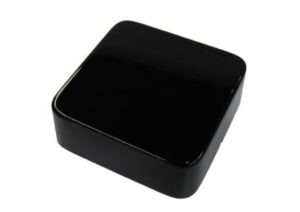 Harxon has released the HX-AULT006, a new high-performance automotive-grade multiband antenna designed for high-precision autonomous vehicle positioning. Tracking GPS, GLONASS, Galileo, BeiDou, as well as the L-Band correction service, the antenna features a compact form factor and ruggedized housing.
The HX-AULT006 offers comprehensive GNSS support for consistent satellite signal tracking, and exhibits stable phase center variation, excellent 4.5dBic (typical value) gain with ultra-low signal loss, wide beam width and low-elevation satellite tracking ability for reliable GNSS signals and enhanced positioning accuracy.
The antenna is equipped with a robust pre-filtered LNA (low noise amplifier), which guarantees excellent out-of-band interference rejection performance and restrains unwanted electromagnetic interference, thus providing stable GNSS signal tracking from all elevation angles even in challenging environments.
The automotive-grade antenna has been designed with a low-profile and compact form factor to minimize damage from overhead objects and reduce wind resistance. The ruggedized housing ensures a long lifespan, with IP65-rated protection for challenging conditions such as vibration, harsh weather and high-speed travel. The unit incorporates a FAKRA (Fachkreis Automobil) connector, which conforms to automotive-grade requirements and provides convenient connection for easy integration.