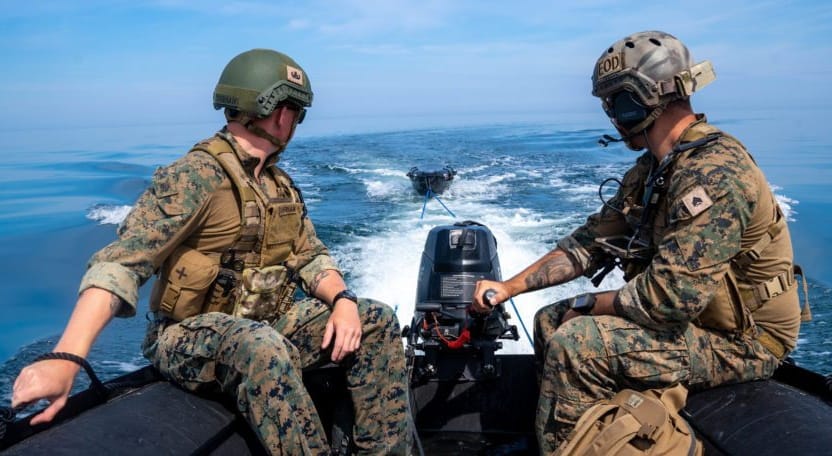 Hydronalix has confirmed that its unmanned maritime systems were recently evaluated by the U.S. Marine Corps (USMC) during the Baltic Operations (BALTOPS) 2021 exercise in Germany. The EMILY, Amy and Nix USVs (unmanned surface vessels), as well as the Adapt UAV (unmanned aerial vehicle), were tested by the Marines for their suitability in mine countermeasures operations and other missions.
EMILY (Emergency Integrated Lifesaving Lanyard), a USV normally used for lifesaving applications, was equipped with a side-scan sonar to detect targets such as explosive hazards in very shallow water. While it was found that EMILY is too small for Marine Corps EOD for explosive ordnance disposal), the larger Amy was ideal for equipping with sensors and acoustic, satellite and radio frequency communications to link divers and unmanned systems to a wider mesh network.
Nix is a relatively small USV that can carry a large payload, and can be programmed to autonomously navigate to waypoints while carrying essential supplies such as ammunition, food, batteries, medical supplies or sensors. The vessel could be towed by Marines behind a manned boat, and sent back to base as required. It features a hybrid fuel-electric power supply that provides enhanced mission endurance.
Master Sgt. Matt Jackson, an EOD technician with the USMC 4th Platoon Littoral Explosive Ordnance Neutralization (LEON) team, commented: "We need to understand the underwater domain, and we need tools to sense things in it. We want to support our Marines organically to survey those waters in the littorals, and also feed the Navy with intelligence to paint a better picture for the overall fleet. It's a capacity problem. To really conduct Distributed Maritime Operations, we need more sensors."
"By demonstrating these systems for the Marine Corps, there may be other Marines out there who will say, 'Amy can work for us, too.' It could be for signals, recording, jamming or whatever. The same goes for Nix. Marines will find things to put in and move around in something like Nix."
The Adapt is a short-range, one-way disposable UAS that can be programmed for autonomous fight via a smartphone or tablet. Tony Mulligan, Hydronalix CEO, noted that the drone is easy to use. "There's no pilot. There's no ground station. There's not even a radio. If a Corpsman needs to send plasma or morphine to a unit ashore three miles away, he loads the drone, clicks on where he wants it to land and it flies right to that location. If an area has been devastated by an earthquake or a storm, and there are not safe places for helicopters to land, these drones could be used to deliver water or food to isolated or damaged areas."