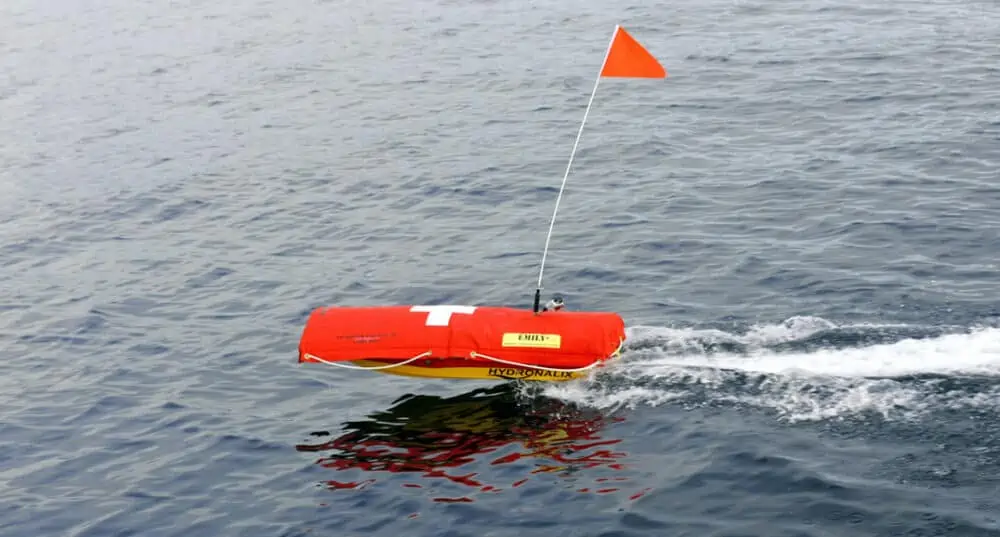 Hydronalix, Inc. and Oregon State University (OSU) have been awarded a Department of Energy Small Business Innovative Research (SBIR) program to develop a new robotic unmanned surface vehicle to map the seafloor and habitats to assess the effects of Marine Hydrokinetic (MHK) installations.
SEARCHER (Sea Remote Controlled Hydrographic Explore and Recorder), the new remote-controlled robotic vehicle, will be based on Hydronalix's small, lightweight Emergency Integrated Lifesaving Lanyard (EMILY) platform, and will initially be demonstrated on inland waterways in Southern Arizona before being deployed on the open coast of Oregon, where future wave energy devices are to be installed.
The SEARCHER platform will conduct automated data collection to monitor and establish the ecological effects of energy extraction using MHK wave energy devices. The data will determine if the operation of MHK devices will disturb marine organisms; such information will be critical for operators of MHK devices. As the monitoring process will not involve any physical interaction with, or disturbance of, the marine organisms, changes can be monitored any day, time, or season.
The U.S. Department of Energy (DOE) Waterpower Technologies Office of Marine Hydrokinetic (MHK) Program plans to advance MHK technologies to capture energy from the Nation's oceans and rivers. To evaluate the environmental impacts of MHK installations, low cost and user-friendly monitoring tools and methodologies are sought. It is necessary to determine the effects in the vicinity of the devices, as well as changes to the sea floor, assessing whether other monitoring devices should be triggered. Current methods such as ship-based tools for mapping and seabed around MHK installations are expensive, time consuming and logistically challenging.
The new programmable robotic platform will allow for real-time collection of data to analyze the effects of marine energy extraction with limited human intervention. The project is anticipated to be of broad interest to academic and federal researchers, managers of MHK installations, Department of Energy, local communities, and other stakeholders and industry.