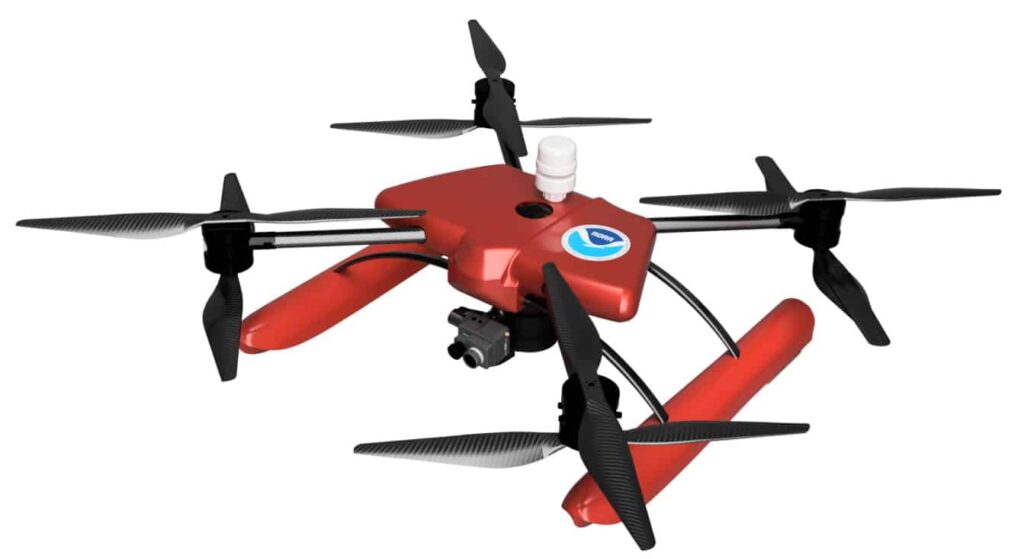 NOAA's (National Oceanic and Atmospheric Administration) SBIR (Small Business Innovation Research) Program has awarded a Phase II grant to Hydronalix and the Texas A&M Engineering Experiment Station (TEES) for the further development of an amphibious drone that can land on the surface of the water to perform sonar imaging.
In Phase I of the program, Hydronalix and TEES successfully developed and flight-tested a prototype of the amphibious UAS that was able to perform 360-degree downward imaging and side-scan sonar imaging. Phase II will involve the development of a new production-ready prototype system that will provide sonar imaging of underwater structures for hazardous debris identification, automatic victim recognition in challenging landscapes, and other emergency response applications. The system will provide near-real time collaboration utilizing cloud storage and mobile apps.
The goals of Phase II include improving the platform's aerodynamics and waterproofing, introduce multifunctional capabilities combining EO/IR cameras, sonar and weather sensors, and to implement new algorithms and machine learning techniques to manage advanced disaster response. The end result will be a UAS that could assist ships, boats and emergency managers in disaster mitigation and response, and could also provide localized weather information.
Anthony Mulligan, CEO of Hydronalix, commented: "We are very pleased to win the Phase II in this highly competitive program and look forward to integrating our mature sonar sensor package and related USV components already in production into a new highly versatile Unmanned Amphibious System, allowing first responders to search from the air and below the water with one platform."
TEES Professor Robin Murphy stated that she is "excited to be combining years of state-of-the-art academic research in Artificial Intelligence (AI) and robotics for search and rescue into a single affordable platform for the disaster and first responder community."