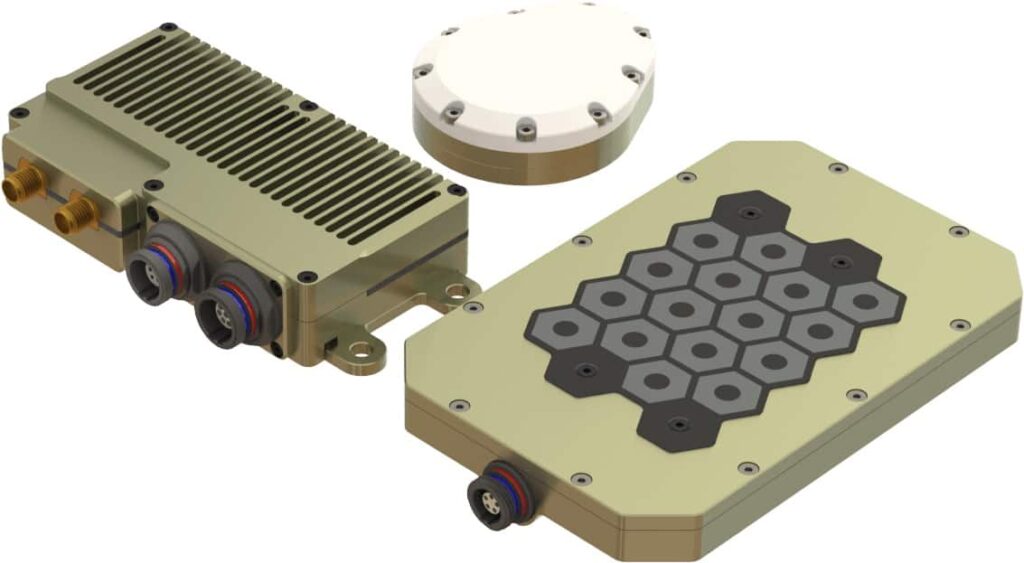 uAvionix has expanded its plans to deploy its SkyLine enterprise managed Beyond Visual Line of Sight (BVLOS) UAS (unmanned aerial systems) C2 network at several new locations in the US and Canada. The company has also received FAA approvals to test its new skyLink Command and Control (C2) radios, which will be leveraged by SkyLine, on aviation-protected C-band frequencies.
Initially deployed in partnership with Thales as part of the North Dakota Vantis initiative, the SkyLine infrastructure will be expanded in the State in Grand Forks for the Northern Plains UAS Test Site (NPUASTS) and across several prominent UAS test sites under the FAA Beyond Program, including the New Mexico State University Physical Science Laboratory Flight Test Centre (NMSU PSL-FTC), the Choctaw Nation Beyond UAS test site, ACUASI Pan-Pacific UAS Test Range Complex (PPUTRC) in Alaska, and the Tillamook UAS Test Range (TUTR) operated by Near Space Corporation.
SkyLine is the first certifiable C2 network purpose-built to support the move to BVLOS operations for UAS and Advanced Air Mobility (AAM). Built on a foundational core of certified and certifiable avionics hardware, SkyLine's network service layer hosted in the cloud autonomously monitors an entire network infrastructure of multiple ground and airborne radios to route C2 messages to a designated aircraft. The most appropriate Ground Radio Station (GRS) is then used and seamlessly handed off between towers based on link quality, flight plan, and the needs of other aircraft sharing the network.
uAvionix' C-band C2 radio design will be tested for compliance with RTCA DO-362A and an eventual TSO-C213A at Bigfork, Montana, and NPUASTS. Currently, the SkyLine system leverages the uAvionix microLink ARS and skyStation2 GRS hardware, operating on unlicensed ISM 902-928MHz frequencies. Testing and deployment of its recently developed skyLink C-band radios will be critical to heavier and riskier BVLOS operations by moving essential C2 infrastructure to the aviation-protected spectrum. Utilizing a protected spectrum adds significant legal protections for operators by guarding against interference and tampering on the frequency. uAvionix intends to transition all SkyLine infrastructure to C-band, offering operators the most secure network to support their mission safety case.
The addition of the SkyLine infrastructure at FAA test sites will make it available for use by OEM, commercial, and government test site customers, enabling integration testing and the demonstration of BVLOS use cases such as long-range C2 corridors and wide areas. Rollout locations include:
North Dakota – In partnership with Thales, the initial roll-out of the SkyLine system has begun as part of the VANTIS program, in which the State of North Dakota will roll out a Statewide UAS infrastructure. Thales and uAvionix have successfully installed and test-flown several sites in North Dakota on the ISM band and North Dakota will be one of the initial locations to transition to C-band testing. uAvionix will deploy the SkyLine radio system at various locations near the NPUASTS and Grand Sky facilities near Grand Forks to facilitate C-band testing, enable OEM / customer integration and test new uAvionix capabilities under the FAA Beyond program
New Mexico – For the New Mexico State University Flight UAS Test Site, the SkyLine C2 system will support several FAA funded programs such as sUAS operations near airports, shielded operations, and Visual Observer assessments. The C2 installation will cover the Las Cruces airport where NMSU PSL-FTS has its operations base and conducts flights near manned aircraft, as well as their mobile Ground Control Station that supports several use cases in remote areas such as detect and avoid testing, BVLOS operations, and managing forest fires. The NMSU area is particularly prone to spectrum interference from nearby air force and space force activities, which will be addressed through SkyLine's unique frequency hopping tables.
Oklahoma – The Choctaw Nation of Oklahoma (CNO) is utilizing SkyLine in support of activities underway under the FAA BEYOND program, which is the follow-on effort to the UAS Integration Pilot Program (IPP) that was started in 2018. The CNO is the only tribal government lead participant on the IPP and BEYOND programs. The FAA BEYOND program seeks to enable BVLOS operations including small package delivery. The initial plans for the system are to support operations at CNO's 44,500+ acre Emerging Aviation Technology Center in the heart of the Choctaw Nation in Southeastern Oklahoma. James Grimsley, Executive Director of Advanced Technology Initiatives with the CNO, said: "We are very excited to continue to work with uAvionix and are always eagerly awaiting their product developments. They have been a strong industry partner, and we look forward to a productive relationship as we support and enable future BVLOS operations and opportunities."
Alaska – At the University of Alaska Fairbanks' (UAF) Alaska UAS Test Site, uAvionix in partnership with the Alaska Center for UAS Integration (ACUASI) will install multiple radios to cover a beyond visual line of sight (BVLOS) operational area in the Fairbanks region. The current and planned operational areas are intended to test more complex/heavier drones for freight delivery and the C2 system will have to overcome terrain challenges unique to Alaska, enabling long range flights through multiple ground radios connected through a private network.
Oregon – The Tillamook UAS Test Range (TUTR) operated by Near Space Corporation, has already installed the first of its skyStations to support operations. With their more than 25 years' experience flying medium and large UAS in the FAA controlled NAS, diverse terrain, and operations to altitudes above 100000 feet, the unique design and range of the C-band radios will enable long distance and BVLOS operations at TUTR and where they deploy.
International – Outside of the US, uAvionix will install its first SkyLine CNPC network as a fundamental component of one of Canada's two large-scale BVLOS demonstration programs under the Airmarket Energy UTM trials, where the uAvionix SkyLine system will be deployed initially at the launch and recovery site near Jonesburg airport to demonstrate a fully redundant, certifiable secure and reliable C2 link to support the safety case to operate BVLOS pipeline inspections for the Canadian oil sector.
Additional new UAS roll-out sites will be announced soon across the US and abroad. In combination with the uAvionix ecosystem of certifiable avionics, such as the truFYX FAA TSO'd SBAS GPS, the George Autopilot, and the ping200X TSO certified Mode S ADS-B transponder, uAvionix SkyLine will be a fundamental part to the UAS infrastructure of the future that enables advanced and scalable BVLOS drone operations.