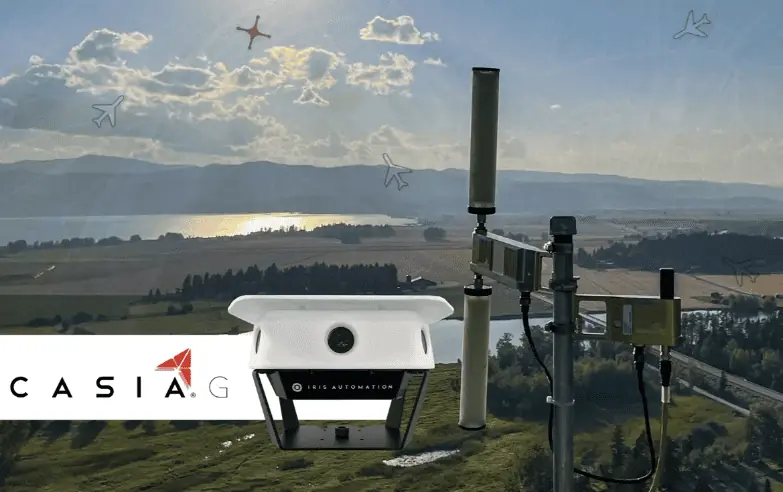 A strategic partnership has been formed to integrate Iris Automation's Casia G ground-based collision avoidance data into uAvionix's SkyLine services for combined Command and Control (C2) and Detect and Avoid (DAA) services.
The combination is expected to enable operators of uncrewed aircraft to obtain superb low altitude airspace awareness and best in class command and control connectivity at price points that do not erode the economic value for small Uncrewed Aircraft Systems (sUAS).
There are two types of traffic in the air today, cooperative aircraft who share position data through transponders or automatic dependent surveillance – broadcast (ADS-B) and non-cooperative aircraft who do not share position data. uAvionix is the leader in cooperative aircraft detection through its proven ADS-B IN solutions for UAS like pingRX Pro and pingStation3. In concert, uAvionix's SkyLine software services bring additional value to UAS operators by visualizing air traffic (ADS-B) data within the first cloud-based C2 network management platform. It's a combination that provides full optimization of the aircraft's C2 communications links and enhanced situational awareness for remote UAS operators. The proven and scalable uAvionix SkyLine system inclusive of airborne radios, ground stations, and DAA sensor data is at the heart of two Federal Aviation Administration (FAA) BVLOS waivers and the recent FAA BVLOS exemption granted to uAvionix.
Since 2015, Iris Automation has been pioneering detect and avoid technologies to ensure safer UAS operations. Iris' Casia system uses computer vision and artificial intelligence to detect non-cooperative intruder aircraft that could result in a well clear breach or a 'near mid-air collision' (NMAC), providing time for the uncrewed aircraft to alter its flight path and grant right-of-way to crewed aircraft. Iris' Casia G system is a ground-based variant of the technology and provides a large area of coverage that is infinitely expandable based on the number of ground-based nodes deployed.
The data produced by Iris' Casia G system serves as a natural complement to ADS-B data available through uAvionix by allowing cooperative aircraft positions to be validated through two independent sensors and rapid identification of non-cooperative aircraft. In combination, the uAvionix and Iris systems provide UAS operators with a level of comprehensive situational awareness that exceeds existing single-sensor-based systems.
The partnership will take a cue from SkyLine, uAvionix's C2CSP solution that leverages path and frequency diversity to provide operators with proven optimization of C2 connectivity. By directly integrating the Casia G data into the uAvionix SkyLine system, multiple and diverse air traffic data points from both cooperative and non-cooperative aircraft will now be displayed and used by UAS operators for DAA functions.
The two companies are actively collaborating on the integration of the Casia G data into the SkyLine service using field tests and operational scenarios. The resulting capability for advanced airspace awareness and command and control is expected to be available for UAS operators later this year.
"Integration of the Iris' Casia G data is another step toward enabling scalable and achievable Beyond Visual Line of Sight (BVLOS) flights for UAS operators," said Christian Ramsey, Managing Director, uAvionix Uncrewed Systems. "With better range than the human eye and artificial intelligence (AI) to analyze the optical image, the system can rapidly detect and classify other aircraft or objects in the air. That data is then ingested and combined with other sensor data, including ADS-B, and displayed for UAS operators in the SkyLine system. It's the type of novel integration and approach that we feel is important for a Command and Control Communications Service Provider (C2CSP) to provide and one that we have seen successfully meets the safety, efficiency and reliably needs of rapidly evolving UAS operations."
"We couldn't be more excited for this partnership. uAvionix has long been an industry leader in our space, and their ability to combine multiple technologies to address long standing gaps in our market is unmatched. Combining reliable and protected C2 communications with comprehensive situational awareness just makes sense. With the addition of our non-cooperative aircraft detection data, operators will now have a turn-key solution for their BVLOS operations," added Jon Damush, CEO of Iris Automation.