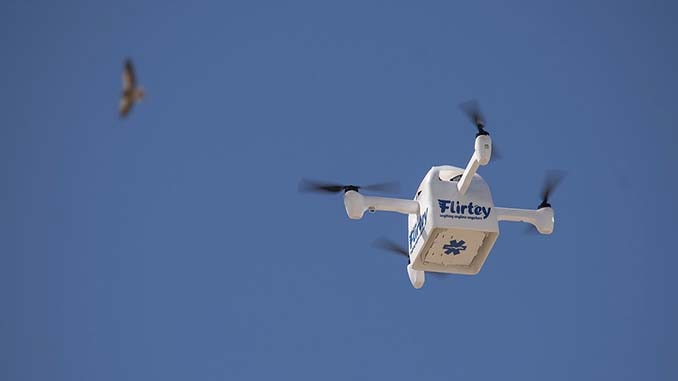 Flirtey has confirmed that it has incorporated Kongsberg Geospatial's IRIS airspace situational awareness application into the autonomous software platform that powers the company's BVLOS (beyond visual line of sight) autonomous drone operations. The addition of this technology will help Flirtey achieve certification from the FAA for these BVLOS operations.
Kongsberg Geospatial's IRIS airspace visualization technology enables multiple drones and sensor feeds to be monitored simultaneously by a single remote operator. The software provides real-time calculation of aircraft separation and communications to enable BVLOS operations. Built on Kongsberg Geospatial's TerraLens SDK, IRIS provides advanced real-time 2D and 3D visualization of all airborne track and weather data, as well as cues, alerts and warnings to allow the operator to more effectively monitor the complex airspace environment.
Flirtey has recently completed the technology to certify and expand U.S. production of its autonomous drone delivery system for last-mile delivery. The company is currently focused on completing the FAA's certification process, in addition to scaling its operations in New Zealand (where the company's technology already has regulatory certification) and expanding US production of delivery drones to meet growing demand.
Matthew Sweeny, Flirtey's founder and CEO, commented: "Flirtey is now taking pre-orders for its autonomous drone delivery systems, which enable businesses to operate their own logistics by providing store-to-door drone delivery to their customers to unlock lower delivery costs and billions in potential new revenue. The Kongsberg IRIS technology is a key part of Flirtey's best-in-class technology for last-mile drone delivery, and Kongsberg Geospatial's experience powering Air Traffic Control Systems worldwide, as well as U.S. and Australian Navy combat systems give Flirtey and our customers great confidence."
Ranald McGillis, President of Kongsberg Geospatial, stated: "We're very pleased to be working with an industry leader in UAS last-mile delivery like Flirtey. We've worked closely with them to implement our technology and their FAA certification will be a testament to their world leading capabilities."