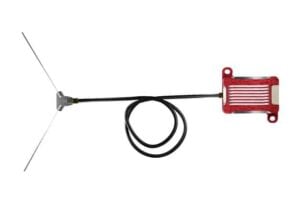 uAvionix has unveiled its new Detect and Avoid (DAA) ADS-B receiver for professional unmanned aerial systems (UAS). pingRX Pro detects private and commercial aircraft operating on 978MHz and 1090MHz, allowing the received aircraft identity, position, and altitude to be visualized on a real-time moving map and providing vital situational awareness for UAS operators and autopilots.
Weighing less than 8 grams, the flexible and easy-to-integrate pingRX Pro provides direct support for popular Ardupilot-based drone autopilot systems, and is ideal for a wide variety of high-performance UAS applications. It features uAvionix's ping ADS-B technology, which has been proven in over a half-million ADS-B solutions worldwide, including not only drones but airport vehicles and certified General Aviation solutions.
The receiver is encased within a rugged aircraft-grade aluminium enclosure, with a detachable external remote mount antenna that can be installed anywhere on a drone airframe. UAS are often designed from materials that can block radio frequencies and impair radio performance, and by providing an external remote mounted antenna, performance can be maximized while providing critical protection of the receiver mounted inside the fuselage.
According to uAvionix, as the industry struggles to implement and prove the performance of radar, camera, and aural DAA solutions, ADS-B stands out as the lowest-cost, lowest SWaP, and highest performance 360° Field of View DAA sensor on the market. ADS-B, which uses precision GPS information to broadcast the position of an aircraft in real-time, has already been widely adopted by manned aviation, with the United States requiring ADS-B OUT on all manned aircraft with an engine-driven electrical system operating near medium and large cities from the surface to 4,000' above ground. Given the likelihood of ADS-B OUT on manned aircraft, and the density in these prime areas for inspection and package delivery, pingRX Pro ADS-B IN is an ideal DAA solution. It tracks 100 simultaneous aircraft at ranges exceeding 150 miles, all at nearly 200% less power consumption of the alternatives.
Christian Ramsey, president of uAvionix Corporation, commented: "uAvionix has led the way in ADS-B solutions for unmanned aircraft since our founding. Industry leaders and BVLOS operators continually choose ADS-B receivers as their primary DAA solution. pingRX Pro now offers manufacturers and integrators the installation flexibility they need for their enterprise aircraft."