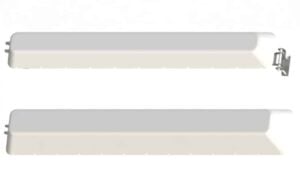 Southwest Antennas has released a series of four new dual-band sector antennas designed for use with multi-port MIMO and MANET radio networks. The antennas are ideal for a wide range of applications, including unmanned aerial system (UAS) ground control stations (GCS) and tactical radio networks.
The antennas feature a dual-band sector antenna design that allows operation across two distinct frequency bands, enabling dual-band transmit and receive capabilities when paired with radio systems capable of multi-band operation. Dual-band systems can take advantage of an array of advanced network configurations and features, including rapid band-switching for anti-jamming applications in contested RF environments, and separating network traffic by band based on environmental operating conditions. The combined coverage of two bands into a single antenna can also simplify network design and deployment where the number of installed antennas must be restricted.
With the option of 90 or 120 degree sectorial coverage, the antennas can be used for communication network designs in either smaller or larger operating areas depending on network coverage needs, and several antennas can be deployed together for complete 360-degree coverage.
Featuring a rugged all-weather construction and the ability to mount with adjustable downtilt, the antennas are ideal for permanent installation on buildings or communication towers, and can also be deployed as part of temporary rapid-response operations when mounted to tripods or masts.
To view the full specifications of the new antennas, visit the following pages on Southwest Antennas' website:
Dual-Band 2X2 MIMO 90° Sector Panel Antenna, Slant L/R Polarized, 2.2 – 2.5 GHz / 5.725 – 5.875 GHz, 13 dBi Gain
Dual-Band 2X2 MIMO 90° Sector Panel Antenna, Slant L/R Polarized, 1.35 – 1.40 GHz / 4.4 – 5.0 GHz, 13.7 dBi Gain
Dual-Band 2X2 MIMO 120° Sector Panel Antenna, Slant L/R Polarized, 2.2 – 2.5 GHz / 5.725 – 5.875 GHz, 10.2 dBi Gain
Dual-Band 2X2 MIMO 120° Sector Panel Antenna, Slant L/R Polarized, 1.35 – 1.40 GHz / 4.4 – 5.0 GHz, 12.0 dBi Gain