More than 35,000 attendees from 50 plus countries and over 1,600 exhibitors attended DSEI this year at London's ExCel Centre. Featuring five domain-focused zones: Aerospace, Land, Naval, Security, Joint, the Defence and Security Equipment International showcased the latest defence and security equipment from around the world. Here's our round-up:
Fischer Connectors unveiled a range of nine extensions based upon the multiple award-winning plug & use Fischer Freedom technology platform. Read more…
UAVOS displayed the upgraded UVH EL, an electric unmanned helicopter now featuring an advanced airframe. Read more…
Sensonor Unveiled their latest tactical grade inertial measurement Unit (IMU) – the STIM318 IMU. Read More…
FlareBright Ltd revealed ADDER (Autonomous Delivery Drone Emergency Resupply) an autonomous drone for last-mile delivery. Read more…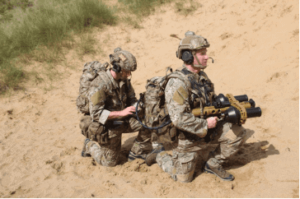 SteelRock Technologies unveiled a full range of NightFighter C-UAV effector systems, now with modular customizable configurations designed for military, civilian and commercial security applications. Read more…
General Dynamics Mission Systems announced the release of the latest autonomous unmanned underwater vehicle (UUV) in the Bluefin family, the Bluefin-12. Read more…
Demonstrations were carried out in conjunction with BAE, The Royal Navy, Dstl and autonomous systems supplier L3Harris highlighting how Unmanned Surface Vessels (USVs) can be fully integrated with Royal Navy warships to extend the operational range of the USVs and warships and reduce risk to Navy personnel. Read more…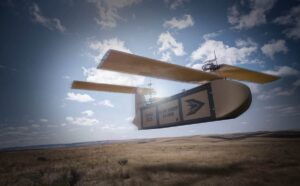 Yates Electrospace Corporation (YEC) unveiled the world's first production-ready 1-ton autonomous cargo unmanned aerial vehicle (UAV. Read more…
Drone Evolution announced the launch of its new mil-spec drone tethering system, providing six-hour flight endurance for any multirotor drone and camera payload at a height of up to 200m. Read more…
Paua exhibited the SkyPod a reusable parcel shipper for safe drone delivery of vaccines in their optimum state, constructed using Paua's patent-pending materials technology. Read more..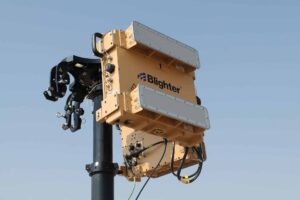 Blighter Surveillance Systems exhibited its upgraded its Blighter A400 series counter-drone radar designed to provide enhanced detection and reporting of slow-moving, low-flying and small unmanned aircraft systems (UAS). Read more…
TT Electronics showcased three new diverse rugged connector solutions the Pola Power, OcTrain and SteadiShield, designed to ensure the high-speed data integrity and improved power distribution required by unmanned or autonomous vehicles. Read more…
Milrem Robotics, exhibited the newly launched fifth generation THeMIS UGV, a next-generation multi-purpose military unmanned ground vehicle. Read more…