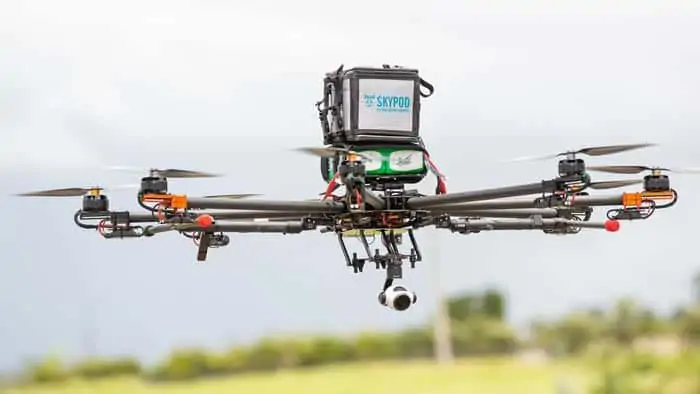 Paua's unique patent-pending materials technology has been used in the development of the SkyPod, a first of its kind drone delivery box.
Designed in conjunction with SoftBox systems, who in turn worked with Direct Relief, Merck, Volans-I and AT&T, the SkyPod enables the safe delivery of medicines by UAV. Capable of travelling over 40km, the SkyPod incorporates Paua's patent-pending materials technology to provide unrivalled impact and damage resistance whilst crucially maintaining the required -70 °C temperature required for vaccines.
Designed in response to the devastation caused by hurricane Maria in Puerto Rico, Paua first got involved with the project after a leading pharmaceutical company identified the need for a reusable parcel shipper to safely deliver life-saving drugs in their optimum state.
Durable, completely recyclable and highly protective, Paua's materials technology is used in a wide variety of applications providing logistics solutions for military, optics, mission-critical electronics and now pharmaceutical use. It is highly suited for use with UAVs given its unparalleled protection to low weight ratio.
A positive contribution to global humanitarian relief efforts, the SkyPod was first successfully used in the Bahamas in July 2019.
"We are immensely excited to see our technology being used to advance humanitarian relief efforts – it is great to be part of something which has such a positive impact." – Pete Symms, CEO of Paua
Paua will be exhibiting its innovative, patent-pending materials technology at DSEI London 2019.