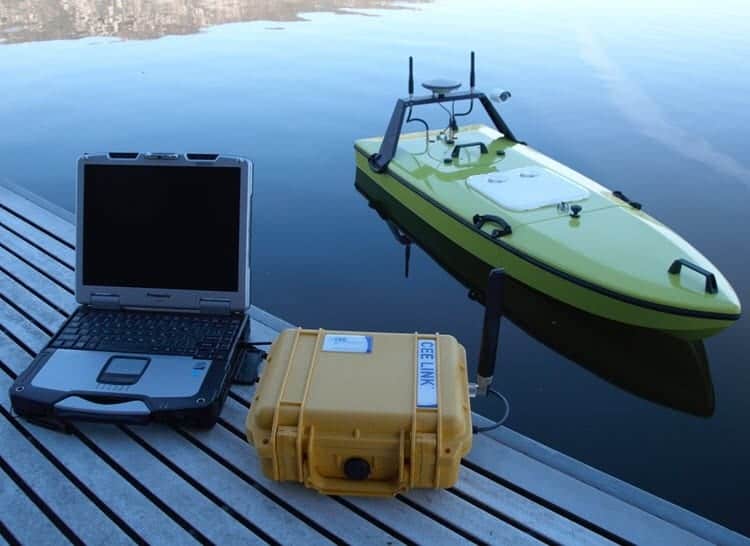 Dynautics Ltd, a developer of intelligent marine electronics for unmanned boats, and CEE HydroSystems, manufacturer of shallow water hydrographic survey echo sounders, have announced a technical collaboration to develop a uniquely integrated survey USV (unmanned surface vehicle), the CEE-USV.
The CEE-USV hydrographic survey vessel is equipped with a specialized CEE-PILOT control system, developed in partnership with Dynautics Ltd., utilising a custom version of the Spectre E-boat module integrated with Eye4Software's Hydromagic survey software.
Adrian McDonald of CEE HydroSystems commented: "We declined to patch together a system based on freeware, or community-based programming, but instead set the bar high for a fully integrated hardware and software solution. This approach was the only way to maintain CEE's unique usability and simplicity, even on a robotic USV."
The collaboration's focus on simplicity led to the removal of all extraneous connections with no on-board PC needed. Simpler operations are provided through the pre-defined survey grid patterns set up in Hydromagic being integrated with route planning in the modified E-Boat module.
Dr Henry Robinson, Dynautics CEO, commented: "Working with CEE HydroSystems is a great example of how collaborations, which are focused on the ease of the use for the customer, provide excellent solutions. Combining and integrating complementary technologies provides a powerful solution."