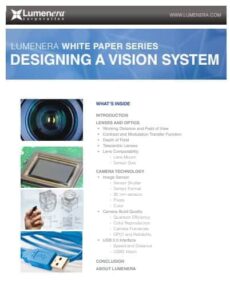 Lumenera has released a whitepaper outlining the technical requirements for building a vision system for imaging applications. Imaging systems for UAVs (unmanned aerial vehicles) are vital for a wide range of applications, including mapping, inspection, environmental management and defense/law enforcement.
A number of factors need to be considered when designing a vision system, including the hardware platform, the operating system, the software and API, and the camera and its lens. Both the camera and the lens should be selected as a pair based on overall system requirements.
Download the full whitepaper from Lumenera's website
The Lumenera whitepaper discusses:
Working Distance and Field of View
Contrast and Modulation Transfer Function
Depth of Field
Telecentric Lenses
Lens Compatibility
Image Sensors – Sensor Shutter, Sensor Format, 35 mm sensors, Pixels, Color
Camera Build Quality, Quantum Efficiency, Color Reproduction, Camera Framerate, GPIO and Reliability
USB 3.0 Interfaces
This overview of high-level requirements is a first step in helping UAS system integrators identify the correct setup for unique imaging applications.
To find out more, download the whitepaper here.