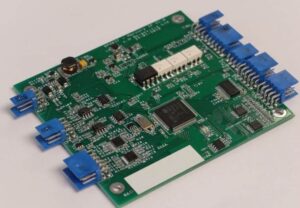 Dynautics Ltd, a developer of intelligent marine electronics for unmanned surface vessels (USVs), has announced that it has successfully developed and commissioned an electronic interface to convert Mercury outboard motors for unmanned operation.
Altus LSA, an established supplier of Ariel Unmanned Systems based in Greece, approached Dynautics for the conversion of their standard RHIB for unmanned use. The standard RHIB was fitted with a Mercury Verado 150HP outboard motor, which are traditionally controlled by a Mercury proprietary interface protocol. Dynautics overcame this by developing a Mercury Interface Module (Dynautics MIM) and integrating a MHK NEC KE5+ electronics throttle system. The Dynautics system was designed to allow for both manned and unmanned operation.
Mr Elias Glymidakis, project manager at Altus LSA, commented on the integration success: "Our customer demanded a reliable and cost-effective conversion of the manned RHIB to an unmanned version. Dynautics provided the MK4 Spectre navigation system and a customised interface to control the Mercury outboard motors. Dynautics responded quickly and thoroughly, and they also commissioned the electronics with our technicians."
Dr. Henry Robinson, CEO of Dynautics, commented: "We have undertaken RHIB conversion previously for other customers and our MK4 system is ideally suited to this application." Robinson also commented on the challenges of working with Mercury outboards motors: "It is well known that Mercury control systems are closed and access to their CAN control protocol is not possible. However, we successfully developed a solution that allowed us to achieve unmanned control and maintain the integrity of the system. We can now offer other customers the same solution."
The Dynautics MIM is available on a small PC104 card (90 x 115 x 11.5 mm).