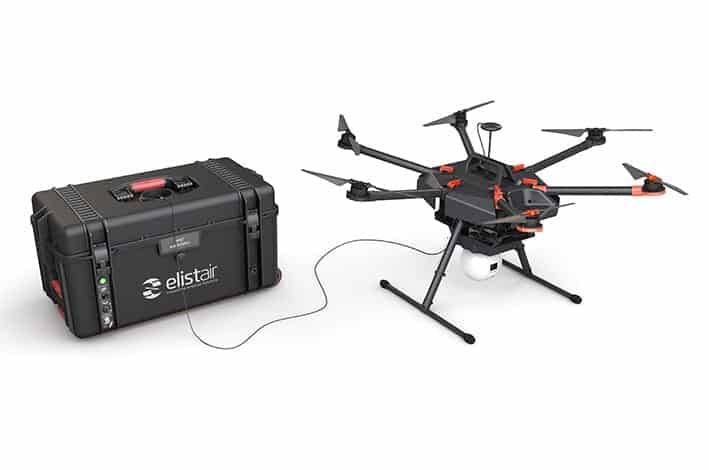 Elistair has announced that Vodafone Group's New Technologies and Innovation team has experimented with using the company's Safe-T tethered station for drones to supply 4G coverage in an area where there previously was none.
In emergency situations, natural disasters, remote locations, or wide events, the absence of cellular coverage is a recurring challenge and can even become a matter of saving lives. Better coverage can take weeks to be installed and requires prolonged and expensive operations.
Elistair's tethering systems for drones offer a flexible and reliable solution for deploying or improving cellular coverage in any environment. A drone tethered to the Safe-T or Ligh-T station and equipped with a network device can fly for hours while offering coverage with no risk of interferences in the network or loss of the drone.
Vodafone Group's New Technologies and Innovation team experimented with the technology in an uncovered area of northern Andalucía with mobile relays mounted on Elistair Safe-T tethering station. With its unlimited power supply, the drone hovered at altitudes of up to 80 meters for periods of over a day with Vodafone CrowdCell, and delivered 4G coverage of up to 3 Megabits per second.
The system can also be used under similar conditions to connect local users without the need to route the call through the main macro network and to offer video streaming for surveillance purposes.
The Safe-T station is an industrial smart tethered station for UAVs (unmanned aerial vehicles), offering real-time semi-persistent flight capabilities due to its patented micro-tether. It is compatible with a wide range of drones and payloads, and has already been approved for tethered flights by an official rule-making body – the DGAC (French Civil Aviation Authority), and successfully deployed by government bodies and industrial companies over 5 continents.