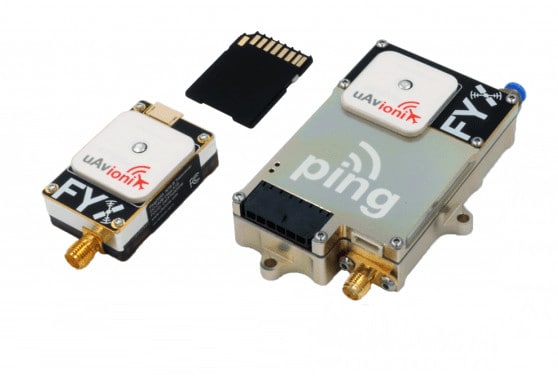 uAvionix has announced a new line of four integrated Ping transceivers and navigation products for unmanned aerial vehicles (UAVs) that reduce weight and installation complexity. The new hardware will debut at the AUVSI XPONENTIAL show.
The Ping2020i, Ping1090i, Ping200Sr and Ping200Si products combine the existing transceiver product line of Ping2020, Ping1090, and Ping200 with the TSO certified FYXNAV GPS into a smaller one-piece form factor that reduces weight on average by 40% as compared to the two-piece installations. The products also include a precision barometric altitude pressure sensor with accuracy beyond 80,000 ft.
"Our customers have asked for even smaller and lighter solutions; integrating the transceivers, GPS receivers, GPS antennas, and barometric pressure sensors into a single form factor facilitates easier installation and lowers weight and power draw requirements resulting in a longer usable flight time." said Paul Beard, CEO of uAvionix.
The Ping2020i builds upon the smallest full range ADS-B transceiver, the Ping2020, by integrating it with the FYXNAV GPS receiver, GPS antenna, and barometric pressure sensor. The Ping2020i is an FCC licensed and FAA approved 978MHz Universal Access Transceiver (UAT) product which provides both ADS-B In and Out functionality – transmitting its host aircraft position at 20W as well as receiving nearby aircraft signals for sense and avoid capability.
The Ping1090i integrates the 1090Mhz ADS-B 20W Ping1090 transceiver with the FYXNAV GPS receiver, GPS antenna, and barometric pressure sensor. The Ping1090i is approved in the United Kingdom (UK) as an Electronic Conspicuity Device (ECD).
The Ping200Si and Ping200Sr expand the capabilities of the Ping200S 200W ADS-B and Mode A/C/S transponder. The Ping200Si/r devices are FCC licensed and FAA approved 1090MHz Traffic Awareness Beacon Systems (TABS). The Ping200Si integrates the transponder, GPS receiver, GPS antenna, power conditioner, and barometric pressure sensor into a single piece 100g unit. The Ping200Sr allows for a remote GPS antenna installation for maximum installation flexibility.
The integrated product line eases installation and integration into the aircraft and provides options for customers to integrate directly with the autopilot or simply as an ADS-B "payload" solution with no autopilot integration.