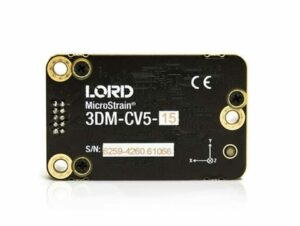 LORD Sensing MicroStrain has announced the introduction of the 3DM-CV5 family of industrial-grade inertial sensors, consisting of the CV5-10 IMU, the CV5-15 VRU, and the CV5-25 AHRS.
Applications for the CV5 line of sensors include vehicle health and usage monitoring, precision agriculture, platform stabilization and artificial horizon.
The 3DM-CV5 offers optimal performance in a small, lightweight package, and it includes direct measurement of acceleration and angular rate. It employs LORD Sensing's Micro-Electro-Mechanical Systems (MEMS), which are miniaturized mechanical and electro-mechanical elements made using the techniques of microfabrication. This allows the CV5 line to provide accurate measurements.
The CV5 sensors are all board-level OEM sensors with precision mounting alignment features that allow for a direct PCB mount or a chassis mount with a ribbon cable. Their low-noise accelerometer has a standard measurement range of ±8 g and optional ±2, ±4, ±20, and ±40 g. Its gyroscope's standard measurement range is ±500 degrees per second or an optional ±250 and ±1, 000 degrees per second.
"The CV5's accelerometer, gyroscope and temperature sensors achieve the best combination of measurement qualities," says LORD Sensing's Manager of Inertial Sensing Fritz Martin. "Each sensor is fully temperature compensated, calibrated over the operating temperatures, and mathematically-aligned to an orthogonal coordinate system for highly accurate outputs."
The 3DM-CV5 family offers easy integration with LORD Sensing's SensorConnect software, which can be used for sensor configuration, live data monitoring, and data recording. In addition the CV5 employs LORD Sensing's MIP Data Communications Protocol, making it available for embedded development and easy OEM integration, and it is cross-compatible with LORD Sensing's other inertial sensors, including the 3DM-GX3-OEM, GX4, RQ1, GQ1, and the GX5 product family.
"The 3DM-CV5-10 is an economic, out-of-the-box solution that was engineered to reduce development time," Martin says. "The low-cost OEM package and connector makes it a simple plug-and-play inertial sensor that can easily integrate directly into a wide variety of applications."
CV5 Series Features:
Low-cost OEM package and connector
Standardized footprint compatible with previous (GX3-OEM) and future OEM sensors
Fully calibrated and temperature-compensated
Lightweight and low profile
IMU, VR, and AHRS available
VR and AHRS have Auto Adaptive EKF for high accuracy in dynamic applications
AHRS has Auto mag calibration capability
Precision low-noise accelerometer
Chassis mount or direct PC board mounting
Precision mounting alignment features
Great price/performance ratio
MIP API cross-compatible with GX, GQ, RQ series
Serial communication: IMU: TTL UART up to 921600 BAUD
Serial communication: VR & AHRS: TTL UART up to 921600 BAUD and USB
Power: 5VDC
Find suppliers of Inertial Sensors >