Dieter Swindley Operations Manager at RCV Engines talks to UST about the company's 'near perfect' combustion systems, the appointment of a new COO and what goes into making RCV Engines a British engineering success story.
Could you tell us more about RCV's patented revolving valve combustion system and why it's ideally suited to unmanned systems and hybrid/power generation?
The RCV combustion system has been described by leading engine specialists as 'near perfect'.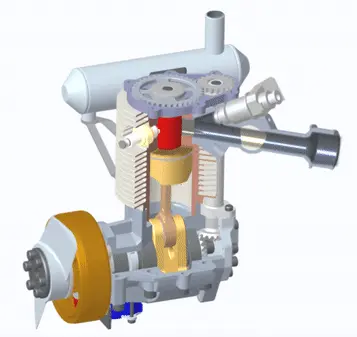 The combustion system is the means by which an engine mixes air and fuel together, burns it within a combustion chamber, and uses the resultant rise in pressure to produce mechanical power. An ideal combustion system will have two main characteristics.
Firstly, the fuel and air must be thoroughly mixed. This ensures that all the fuel has access to oxygen to enable it to burn.
Secondly the combustion chamber must be a compact shape. This both minimizes the amount of heat lost to the engine body, and enables the flame front to rapidly spread throughout the entire charge.
The RCV rotating valve combustion chamber fulfils both of these ideal characteristics. The rotation of the valve generates a high level of turbulence which mixes the fuel and air thoroughly. The combustion chamber is contained with the rotating valve body and is very compact.
As a result the RCV is easy starting, powerful, and reliable on both gasoline and heavy fuels (JET A1/JP5/JP8).
It is this ideal combustion system that sets RCV apart from other technologies.
The RCV is a high performance 4-stroke engine. It produces similar power to a 2 stroke, but is significantly more fuel efficient, typically using between 30% and 50% less fuel for a given mission than a standard 2 stroke.
The RCV requires little maintenance and has long service intervals. The simple rotary motion of the valve means that it requires no adjustment. The spark plug is shielded from a significant part of the fuel burn which protects it from carbonisation. As a result service intervals are approximately 250 hours.
The efficient combustion system also means:
The RCV can change fuel types without any mechanical changes. All that is required is to change the fuel map. The ECU can store 4 pre-set fuel maps. These are selected through the CanBus.
The RCV is tolerant to changes in environmental factors such as fuel composition, air density, humidity or temperature. As a result, the engine works well at higher altitudes.
The RCV is insensitive to both ignition timing and Air Fuel Ratio (AFR). It will run in a practical manner over an AFR range of between 8:1 and 14:1. This means it will keep running even when transient conditions produce a temporary change in AFR e.g. during starting or throttle up. This ensures totally reliable and predictable handling under real-world conditions. This makes the RCV extremely suited to remote starting as seen on hybrid platforms.
There is no need for complex work arounds to enable heavy fuel running such as multiple ignition sources or complex exhaust systems & starting procedures.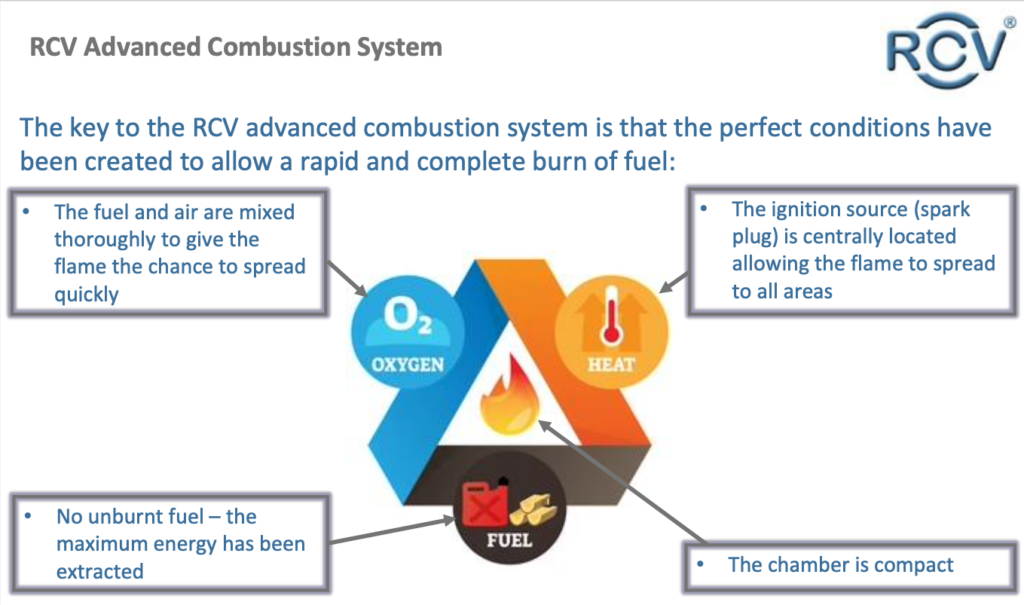 What are the benefits of using RCV Engine's design facility?
RCV has access to simulation SW which allows us to optimise core engine performance for a customer's specific application. This software is used to design items such as low DB exhaust mufflers, air-boxes and cooling systems. These assemblies go through stringent modelling and simulation processes to ensure optimal power outputs are achieved whilst meeting specific customer needs, such as weight or space envelope restrictions.
In addition, the ancillaries around the engine can be configured to suit the customer's application. RCV has designed customer specific parts for many applications: fixed wing, VTOL rotary wing, multi-copters, marine (USV), and land-based (hybrid motorcycle).
RCV also has several new engines in the pipeline which are scheduled over the coming years. In the event a customer requires this solution sooner, RCV is able to expedite this, providing suitable funding is available. These engines are based on current designs and technologies, so are seen as low to medium risk, however they are still required to go through the full development and durab cycle.
We understand that RCV Engines has recently appointed a new COO and Production Manager. Could you tell us more about these positions and the direction they will be taking the business in?
RCV is evolving into a more production focused company. Although we started out life producing the model engine range (circa 20k units sold worldwide) the company became heavily involved in R&D projects for some years which allowed the current engine technology to be developed and proven.
With the change in the overall market due to the Ukraine situation, and increased interest in several sectors, such as maritime & pipeline surveillance etc, the RCV order book has grown substantially and this is forecasted to continue.
To ensure customer's needs are met we are investing in increasing our capacity through new larger facilities, new staff, new SW, new tooling etc. To compliment this change in direction it has been recognised that experienced leadership and a production specialist is needed. RCV has therefore taken on a new Production Manager and appointed an acting COO to oversee and accelerate the capacity increase process.
Given the rapid growth of the unmanned systems industry in recent years, how do you see RCV Engines evolving in this sector 2023 and beyond?
Forecasts going forward are extremely positive. RCV is expecting to quadruple in size over a 2-3 year period. We have already exceeded 2022s sales in the first ¼ of 2023. More investments are planned in areas such as our test facility, spares and service, customer training and in the overall facility.